Vision 2024 Targets Elimination Of Manned Level Crossings In Major Routes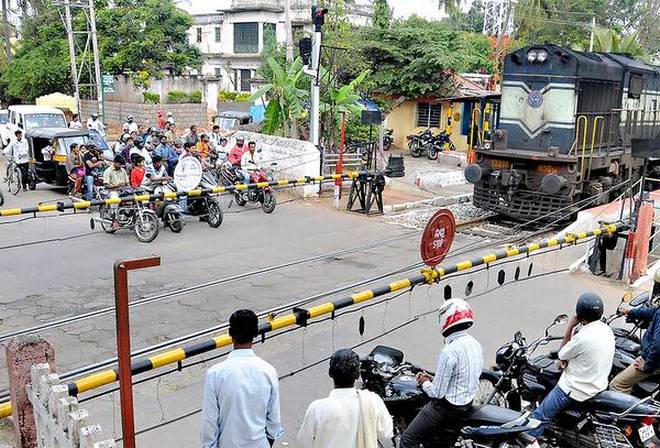 New Delhi, Nov 21: Target of 2024 million tons of freight loadings, elimination of more than 2400 manned level crossings and completion of all national projects in Northeastern region are on focus for Vision 2024 of Indian Railways.
Prepared by a dedicated team with inputs from all concerned directorates, the Vision 2024 document aims development of rail infrastructure in a big way to enhance capacity while removing bottlenecks and strengthening safety in train operation.
As per the directions given by Prime Minister Narendra Modi, a new paradigm shift has taken place in planning and faster pace of execution of projects in railways with available resources are utilised judiciously for optimum results.
The national transporter has set the target to eliminate 2,429 manned level crossings on all the four arms of the Golden Quadrilateral rail network and its diagonals by March 2025 to enhance safety and operational speed on these crucial networks. It will spend approximately Rs 41,200 crore for this.
Vision 2024 has identified 58 super critical and 68 critical projects for
resource allocation and execution at a faster pace with a target for completion of super critical projects by December 2021 and critical projects by March 2024.
The super critical projects of total 3,750 km will be completed by December 2021 except two projects which will be completed by March 2022. Similarly, 68 critical projects of total 6,918 km will be completed by March 2024.
According to the vision document, which is being circulated to all concerned officials, 1,186 level crossings are to be replaced by rail over bridges, another 1,223 by road under bridges and the rest 20 by diversion.
Vision 2024 has been envisaged to achieve targets of 2024 MT freight loading by 2024 by augmenting infrastructure. The plan includes increasing average speed of trains and electrification of all major routes in the next four years besides a host of works, which would require nearly Rs 2.2 lakh crore.
The vision document has highlighted the completion of the much delayed Kashmir rail link project by December 2022. The upcoming Chenab rail bridge, the tallest rail bridge in the country, is part of the Kashmir rail link project which has missed the target many times in the past.
The plan also specifies that the four national projects falling in the NorthEast Region with a total length of 294 km costing around Rs 27,500 crore will have to be completed by March 2023. The railways has also set the March 2025 deadline for two major projects, Rishikesh-Karanprayag and Bhanupali-Bilaspur rail lines.
Sources said the vision document has specified that works for raising of sectional speed to 160 kmph on New Delhi-Mumbai (including Vadodara-Ahmedabad) and New Delhi-Howrah (including Kanpur-Lucknow) routes costing Rs 6,804 crore and Rs 6,684 crore respectively will be completed by August 2023. The works for raising the sectional speed to 130 kmph on balance Golden Quadrilateral and diagonal routes will be completed by December 2021.
Considering that coal will continue to have a significant share in the railways freight basket, additional 20 coal projects of cumulative length of 2,350 km will be completed by March 2024.