Noida International Airport: Significant Milestone Reached With First Concrete 'Mega Pour'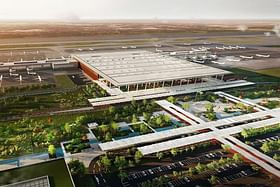 https://gumlet.assettype.com/swarajya/2022-11/9d1265fb-dbd1-46d5-b790-9f812da2655f/noida.jpg
The construction of the Noida International Airport (NIA) marked a milestone on Monday (16 Jan) with a "mega pour" of 1800 cubic meters of concrete and 350 tons of cement in 20 hours.
Tata Projects Limited is in charge of construction of India's largest airport at Jewar in Gautam Buddha Nagar district in Uttar Pradesh. The company will construct the terminal, runway, airside infrastructure, roads, utilities, landside facilities and other ancillary buildings at the airport under engineering, procurement, and construction (EPC) model.
The construction of the Jewar airport is understood to be the "most important" project of the State government and is being personally monitored by Chief Minister Yogi Adityanath.
Adityanath, during his inspection of the airport site in September 2022 had asked the project developers to speed up the airport work, by increasing the number of staff and machines, so that the project is completed by early 2024 and the first flight scheduled for September 2024 takes off on time.
Timeline
In November 2019, the Swiss firm Zurich Airport International AG (ZAIA) won the contract to build and operate the airport in Greater Noida for a period of 40 years, which includes construction period of four years in the first phase.
Subsequent to this, the ZAIA incorporated a 100 per cent owned SPV – Yamuna International Airport Private Limited (YIAPL) to develop the greenfield airport.
The Government of Uttar Pradesh signed the concession agreement with YIAPL on 7 October 2020, to commence the development of the Noida International Airport.
The company is responsible for implementing the Public-Private Partnership project together with the Government of Uttar Pradesh, New Delhi Okhla Industrial Development Authority (NOIDA) and Greater Noida Industrial Development Authority (GNOIDA). 
The construction work on the site started only in June 2022 after the selection of the EPC agency. If the construction work is not completed within the stipulated period, a fine of Rs 10 lakh will be imposed on the agency per day.
India's Largest Airport
The upcoming greenfield airport at Jewar will enhance domestic as well as international connectivity to and from Delhi-NCR, Noida and Western Uttar Pradesh.
The airport, billed to be India's largest upon completion, will be developed in four phases, after which it would have an annual passenger capacity of 70 million and two terminal buildings, spread across an area of 5,000 acres.
As per the concession agreement, the first phase for 12 million passengers per annum is to be completed and made operational by September 2024.
The master plan development as foreseen across four phases includes the following key features: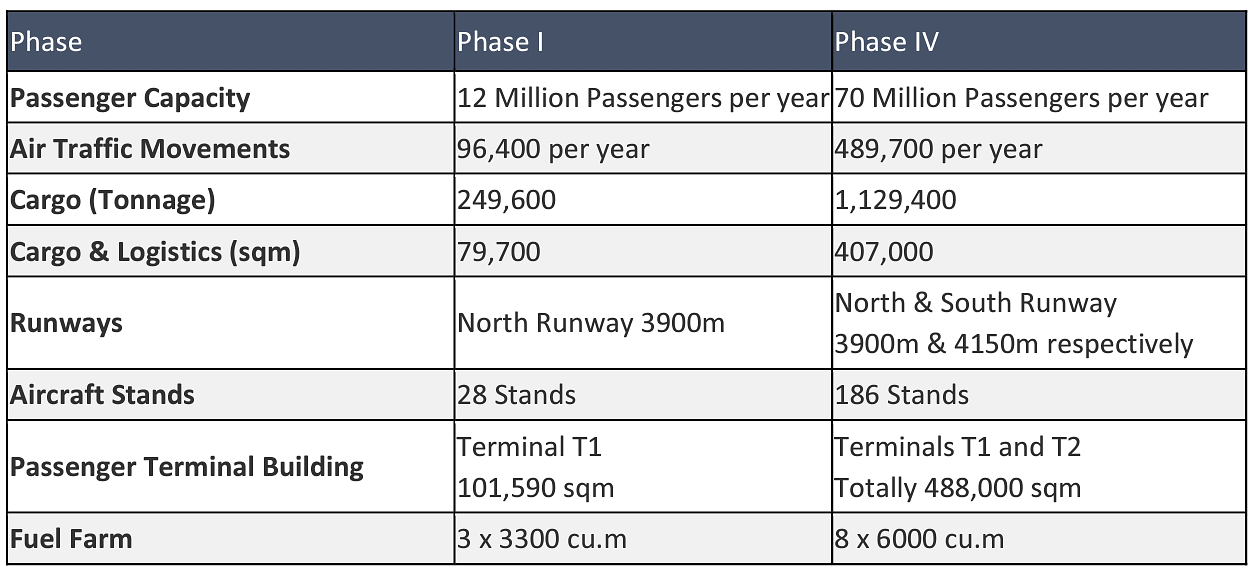 The survey work for acquisition of land for the second phase of the NIA is also underway. The second phase of the NIA is planned in an area of 1,365 hectares, of which around 1,185 hectares are owned by private persons, including farmers, of six villages.