Delay Looms Large Over 620 Km Varanasi-Kolkata Expressway As NHAI Finds West Bengal's Land Acquisition Policy A Tough Nut To Crack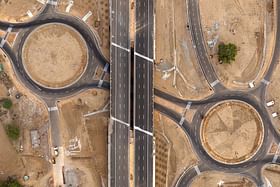 https://gumlet.assettype.com/swarajya/2022-07/190493a3-56e9-4cf1-8c8b-d0da697f926b/bundelkhand_expressway_interchange_2.jpg
The expressway is expected to be opened by FY 2026-27.
However, the land acquisition hurdles in West Bengal may dent the prospect of opening up the 22,500 crore expressway in time.
Inordinate delay in land acquisition by the West Bengal government has derailed the tender process for the construction of Varanasi-Kolkata expressway in the state.
The National Highways Authority of India (NHAI) which is implementing this six-lane project has already invited tenders for 10 packages in UP and Bihar under Hybrid Annuity Mode with two-year deadlines.
However, the inability of West Bengal government to acquire required land for the same, means the project is stuck.
The 620 km Varanasi-Kolkata expressway will be parallel to NH-19 (old NH2) and connect Chandauli in Uttar Pradesh (UP), Ranchi in Jharkhand, and Howrah (Kolkata) in West Bengal.
The expressway once complete will unite the two cultural capitals of the country, Varanasi and Kolkata. Riding on this expressway, a devotee would take about 7-8 hours to reach from Kashi Vishwanath Temple in Varanasi to Kalighat Temple in Kolkata, paying his obeisance to both Shiva and Kali in a day.
Lagging in West Bengal
Starting at the junction of NH19 and Varanasi Ring Road, the access-controlled expressway passes through Bihar and Jharkhand, before terminating at NH16 near Uluberia in Howrah district in West Bengal.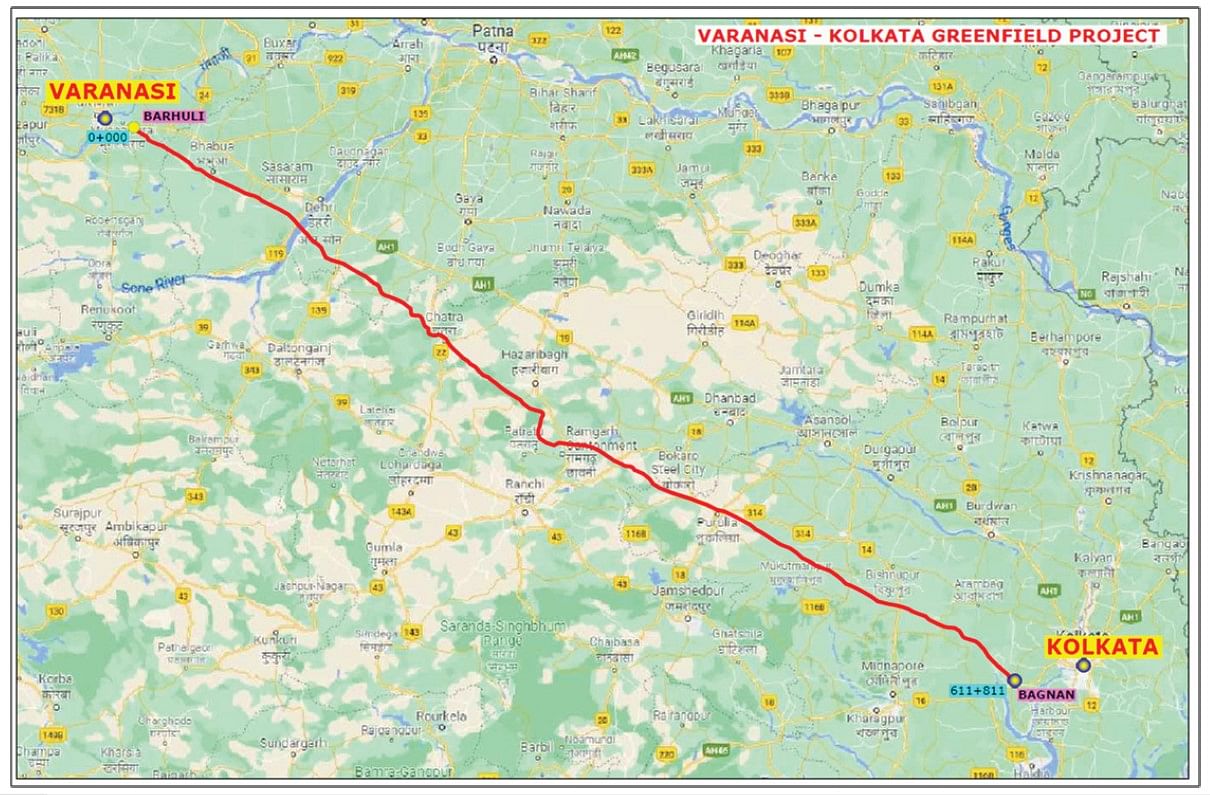 The lion's share of the expressway (242km) passes through West Bengal and will connect Purulia and Bankura, West Medinipur, Hooghly and Howrah in the state.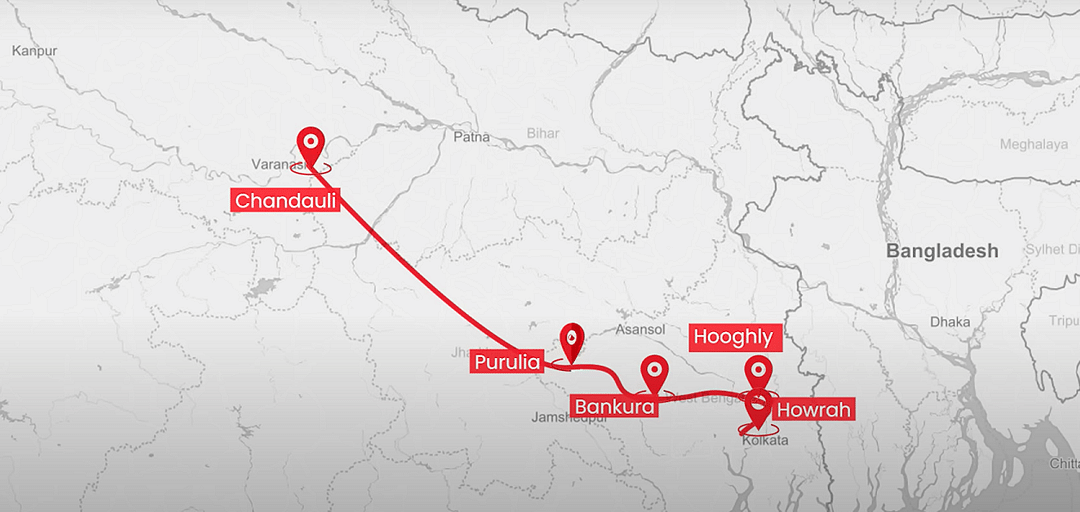 However, while NHAI has already floated tenders for the entire stretch in UP (22 km) and Jharkhand (187 km) and more than 95 per cent length in Bihar (159 km), tender notices are still pending for the West Bengal section where land acquisition has typically been slow and painful.
The land acquisition in all states barring West Bengal is nearing completion, and the NHAI has been in the process of handing compensation to people who have parted with their land for the project.
Do-It-Yourself
The Trinamool Congress government, which came to power in 2011 following a strident campaign against the land acquisition for Tata Motors' Singur plant has maintained an arm's length from land acquisition especially for Central projects.
The Bengal's policy on land acquisition is centred around three key elements-
All entities (private investors or public sector undertakings) have to negotiate directly with the landowners or encroachers (on government or private land) and acquire land from them for their projects.
No proactive support from the state authorities to help private investors and public entities like the NHAI or the Railways acquire land from private landholders or even those who have encroached on public land.
Government is willing to actively support land owners in their fight to "resist" any attempts to acquire lands without "fair compensation".
The myopic policy on land acquisition means many crucial public projects like expressways, metro rail is stuck in logjam.
For example, in August last year, Damodar Valley Corporation (DVC) has pulled itself out of the proposed Khagra-Joydev coal block project in West Bengal as it was not able to acquire required land for the same.
Around 4,100 acre of land was required for the project at Dubrajpur in Birbhum district and of which, 3,500 acre was supposed to be acquired directly from the villagers. DVC which was offering Rs 35 lakh per acre failed to acquire the land in absence of an active role from the state government.
It is the same Birbhum district where the Deocha-Pachami coal mining project – the second-largest coal block in the world and the largest in India- is located.
The Policy
Land Acquisition constitutes the first basic requirement for capacity addition of an existing road notified as a National Highway (NH) or development of a Green-field expressway.
The land for development of NH is acquired under Section 3 of the National Highways Act, 1956 and compensation is determined in accordance with the First Schedule of the Right to Fair Compensation and Transparency in Land Acquisition, Rehabilitation and Resettlement (RFCTLARR) Act, 2013.
Issues Confronting NHAI
Apart from government apathy, directly negotiating land acquisition in Bengal is a highly complicated exercise, which only exacerbates the problem.
Landowners in Bengal hike the prices and ask for much more than the prevailing market rates once they come to know about the proposed project and refuse to shift unless they get the hefty compensations they ask for.
"We cannot acquire land from private entities at arbitrary rates. These rates are laid down for all categories of land and we cannot increase the rates. A major problem is acquiring land from encroachers. These encroachers don't have any land documents and so it is not possible for us to give them any compensation for the land (mostly government land) they are squatting on," a senior NHAI officer told Swarajya.
Also, any land acquisition process gets complicated with the involvement of local politicians belonging to the rural party.
"Local politicians get involved and encourage land-owners and squatters to demand very high compensation. The politicians then take a cut from the compensation that is given to landowners. This doesn't happen in other states," the NHAI officer said.
Land holdings in Bengal are small and fractured with even one bigha of land having multiple owners. Negotiating individually with all of them is virtually impossible for the NHAI.
Also, a lot of privately-owned land in Bengal is under litigation – Bengal is a very litigious state – and so acquiring such land is practically impossible without the help of the state government.
"Very often, the state government's help in negotiating intractable disputes over land is crucial, but we get little help and that has stalled many projects," said a Kolkata Metro Rail Corporation (KMRC) officer.
The vexing issue of land acquisition in the state is more prominent in three districts, namely, Bankura, Hooghly and Howrah.
The end result is that the NHAI is willing to offer compensation which is more than the prevailing market rate but wants the state government to acquire the land for the Kolkata expressway.
Delay On The Horizon
With NHAI hoping to allot work worder in coming months, the construction of this expressway is set to commence in January 2023.
The expressway is expected to be opened by FY 2026-27 as announced by Union Road Transport and Highways Minister Nitin Gadkari in the Parliament in November 2022.
However, the land acquisition hurdles in West Bengal, unless resolved sooner, may dent the prospect of opening up the 22,500 crore expressway project and may have major economic implications for the key mineral producing regions of eastern India- Jharkhand, Bihar and West Bengal.