Explained: No More Flying Rights To Foreign Carriers In India As Indian Aviation Goes 'Atmanirbhar'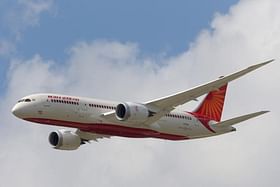 https://gumlet.assettype.com/swarajya/2023-03/faebaf82-1be4-45a0-8277-b059d64536ea/indian_airlines.jpg
Recent reports have suggested that Indian authorities are planning to stop providing any more 'flying rights' or 'bilateral rights' to foreign carriers, as the country plans to push its own domestic carriers on the international routes out of India.
In an interview with the Reuters news service, India's Civil Aviation Minister Jyotiraditya Scindia said, "India is now at an inflection point. We are going to see an explosion of air traffic in India in the years to come."
He also pointed out that India is asking aerospace companies to step up local production and will soon finalise rules to safeguard the rights of lessors (companies that lease jets to others) on repossessions of jets, in a bid to level up with major global aviation markets.
India is currently the third-largest civil aviation market in the world and could possibly become the largest by the end of the decade.
Scindia said that passenger traffic through six major metros is expected to more than double to 420 million over the next five years and India's fleet is to expand to over 2,000 aircraft from 700 today.
The record number of planes placed on an order by the Tata group-owned Air India has turned the attention of global carriers on the Indian market, who are now demanding extra 'flying rights' in the market.
What Are 'Flying Rights' That Are Being Demanded By Foreign Airlines
The number of flights that can be operated between two countries is determined by Bilateral Air Services Agreements. These can either limit the number of flights or provide unlimited access.
India has mostly opted for limited flights in its agreements with other countries, except for two, the USA and the UK, with whom it has open skies agreements.
Foreign airlines, especially those from West Asia, have always wanted greater seats and flights, as Indian passengers going to Europe and the USA would use their services.
These requests were approved earlier, but have not been entertained since 2014.
The reason: the government wants to push Indian airlines to become large global carriers, with non-stop long-haul flights to the USA and Europe.
Air India's order of 70 long-haul aircraft and Indigo's testing of leased long-haul planes shows the eagerness of the industry to grab this opportunity.
However, for consumers, this could mean higher prices, but only in the short and medium term. As airlines induct more aircraft over the next two to three years, the prices are expected to go down.
The government also wishes to build a global airline brand from India, which is a matter of great pride and a tool of India's soft power.