Vande Bharat Express Arrives In Jaipur: Trial Run For Ajmer-New Delhi Route To Begin Soon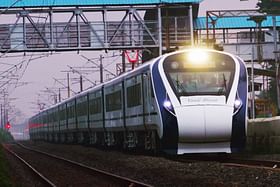 https://gumlet.assettype.com/swarajya/2022-11/d552b208-68ec-4d3f-b4ee-f40ad27cf71f/Fg7mQDjakAAjnn7.jpg
The first rake of Vande Bharat Express of North Western Railway (NWR) arrived in Jaipur on Saturday (25 March) from Chennai and was kept in its designated loco-shed, marking its long-anticipated arrival.
The rake arrived in the city at 8:30 am on Saturday, and the NWR spokesperson stated that they will conduct routine maintenance for a few days before starting the trial run on the Ajmer-New Delhi route.
Regular services of Vande Bharat train are set to commence in the first week of April from Ajmer to New Delhi via Jaipur instead of the originally proposed Jaipur to New Delhi route, following successful trials.
The train schedule proposes six-day service, with the exception of Wednesday.
Departing from Ajmer at 6:10 am, the train would make a stop in Jaipur at 7:55 am before reaching Delhi at 12:15 pm. The return journey from Delhi is scheduled for 6:10 pm, with a stop in Jaipur at 10:20 pm, and arrival in Ajmer at 12:15 am the following day.
The staff operating the trains between Jaipur and Delhi have undergone specialised training in handling the customised rake of the Vande Bharat Express.
The coaches feature pictures on every alternating roof, while the Integrated Coach Factory in Chennai, that built the train, has installed high rise pantograph in this train, according to an official quoted by Economic Times.