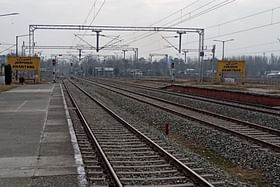 Indian Railways has achieved a significant milestone in railway track electrification with the broad gauge (BG) route in the Union Territory of Jammu and Kashmir, completely electrified.
A total of 298 route kilometre (RKM) of BG route in the region is electrified. This is expected to improve rail connectivity, speed of trains and boost trade and tourism in the region.
With 85 per cent of route kilometre (RKM) electrified across the country, Indian Railways is rapidly progressing to accomplish its mission of 100 per cent electrification and become the largest green railway network in the world.
According to the Railways, switching to electric traction has provided many benefits including an environmentally-friendly mode of transport and reduced dependence on imported diesel fuel, thereby saving precious foreign currency and decreased carbon footprints.
The electric traction has also reduced operating cost.
Haulage of heavier freight trains and longer passenger trains with high haulage capacity of electric locomotives, leading to increased throughput and saving of specific energy consumption are other benefits.