Andhra Pradesh: Centre To Spend Rs 80,000 Crore on Port Infrastructure, Harnessing State's Long Coastline Under Sagarmala Programme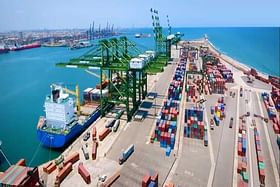 https://gumlet.assettype.com/swarajya/2023-02/41c686ee-ce72-48e0-b614-ada8a82c6a31/port.jpg
Union Minister for Ports, Shipping and Waterways, Sarbananda Sonowal, has announced that the centre will spend nearly Rs 80,000 crore to develop port-related infrastructure in Andhra Pradesh.
He further underlined the continued support extended by the centre for the development of infrastructure projects in the state.
While addressing the valedictory session of the Global Investors Summit (GIS) 2023 for Andhra Pradesh, the Minister said that under the Sagarmala Programme, more than 110 projects worth around Rs 1.1 lakh crore have been identified for implementation in the state of Andhra Pradesh, reports TOI.
Of these planned port and waterways related projects, 35 projects with an estimated cost of Rs 32,000 crore have already been completed.
Asserting that the multi-modal transport system (MMTS) is the future of logistics, the centre is ready with an action plan to initiate the pipelined projects with a focus on modernisation of infrastructure connecting ports and harbours.
Andhra Pradesh has emerged as a significant contributor in port-led development of the country with its long coastline and the presence of several ports.
Adding to this, the central government has granted Rs 1,500 crore to develop five fishing harbours and Rs 740 crore to take up another five projects for advancements of existing harbours, also considering the upliftment of the fishermen communities.
The Ministry of Ports has set up a centre of excellence in maritime and shipbuilding, a first of its kind in Asia with 18 laboratories — with an aim to bridge the skill gap between the academics and industrial requirements at the Indian Maritime University campus in Visakhapatnam.
The objectives through the Sagarmala projects includes modernisation of existing ports and terminals, development of new ports, tourism jetties, enhancement of port connectivity, inland waterways, technology centres and skill development.
Further to this, while speaking at the GIS, the Union Minister for Road Transport and Highways Nitin Gadkari, proposed that all ports in the state will be connected with four-lane highways, as per a report by The Economic Times.
At an estimated cost of Rs 20,000 crore, this network of roads for enhancing port connectivity will be constructed, regardless of a port being a minor, major port, private or state port.
The Global Investment Summit organised in Andhra Pradesh was held for two days, starting on 3 March 2023.
The summit attracted many companies from India and abroad, signing of 352 Memorandum of Understanding (MoUs), worth Rs 13.05 lakh crore also took place.
Delivering the inaugural address at the Summit, Chief Minister Jagan Reddy highlighted Andhra Pradesh as the gateway to the south-east with its 974-km-long coastline, the second longest in the country.
The state is presently home to six ports, and plans to expand its cargo handling capabilities by building four additional ports and eight fishing harbours by 2024.