Budget 2023: Railways Gets Rs 2.40 Lakh Crore Capex, Highest Ever Amid Global Slowdown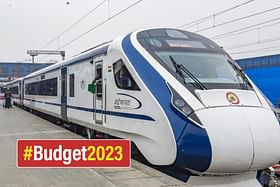 https://gumlet.assettype.com/swarajya/2023-02/7f4df353-cd56-4d2d-aa7e-05947654c4a4/1__3_.jpg
Catering to the expectation, Finance Minister Nirmala Sitharaman has announced Rs 2.40 lakh crore capital expenditure in the Budget 2023, highest ever in the infrastructure sector for the railways.
This is nine times more than 2013-14 capex, said Sitharaman in her speech.
The capex would be utilised to expand the rail network providing last-mile connectivity to fertiliser, steel and mineral ores.
With the last mile connectivity in the core sector, the railways freight loading would be witnessing a substantial jump as envisaged in the National Rail Plan 2030.
Facing a stiff competition from the road sector, the national transporter has firmed up an action plan to increase its modal share in goods transportation through strengthening last mile and port connectivity across the country.
The Finance Minister has announced a total Rs 10 lakh crore capital expenditure for the  infrastructure, which is three times more than the outlay of 2020.
Presenting her fifth budget, she said this is the first budget in the Amrit kaal and a blueprint for India @100.
She further said there is a growth of 7 per cent despite global slump and the aim is that fruits of the development would reach all sections of society.