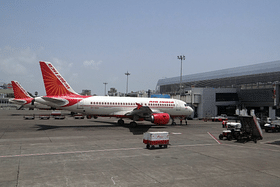 After a gap of almost 10 years, the commercial flight operations have resumed from Jamshedpur.
A daily flight connecting Jamshedpur with Kolkata and Bhubaneswar was launched from Sonari Aerodrome on 31 January by Union Minister of Civil Aviation Jyotiraditya Scindia and Jharkhand Chief Minister Hemant Soren.
IndiaOne Air, an Ahmedabad-based regional airline, will start operating a 9-seater single-engine aircraft on the Bhubaneswar-Jamshedpur-Kolkata-Jamshedpur-Bhubaneswar route from today (1 February).
From 1 February, the flight will leave Bhubaneswar at 6.30am and reach Jamshedpur at 7.50am. It will leave Jamshedpur at 8.15am and reach Kolkata at 9.20am.
The flight will leave Kolkata at 10.10am and reach Jamshedpur at 11.15am. It will leave for Bhubaneswar at 12.45pm and reach the Odisha capital at 2.05pm.
While the Jamshedpur-Kolkata part of the route will be operated under the UDAN scheme, the Bhubaneswar-Jamshedpur leg will not be under the regional connectivity scheme.
Debut In 2007
Jamshedpur debuted on the country's air map in 2007 with Air Deccan providing passenger flight service to Calcutta. But the Air Deccan-run service came to an end soon after the Directorate General of Civil Aviation (DGCA) imposed load restrictions because of the short runway at Sonari Aerodrome.
MDLR Kingfisher resumed connectivity in 2009, only for a few months. On 17 August 2010, Deccan Charters hired a turboprop 19-seat aircraft but the service ended in February 2011.
In January 2012, DTDS Travels started a flight between Jamshedpur and Kolkata after getting a non-scheduled operator's licence from DGCA. But the service was discontinued as it could not become viable.
Restarting air services with Jamshedpur has been a long-pending demand from businesses in the area as well as the state government. While Jamshedpur has an excellent road and rail connectivity, the city residents have to travel over 160 km to Ranchi, the state capital to catch a flight.
The launch of Jamshedpur-Kolkata flight on 31 January will be the fifth attempt at air-linking the two cities by private air operators since the creation of Jharkhand.
This new service connecting the industrial hub of Jamshedpur and the epicenter of art and culture, Kolkata will strengthen the economy of these two major cities of Eastern India, increase employment opportunities and promote tourism.