In Pictures : Rs 620 Crore Facelift Of Ayodhya Railway Station As RITES Invites Bids For Next Phase Of Redevelopment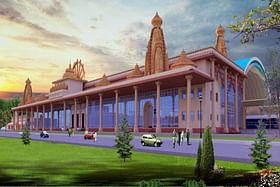 https://gumlet.assettype.com/swarajya/2023-01/ccb268dd-0527-4f66-bec7-68d1a3bf2f83/ayodhya_railway_station_3__1_.jpg
The project to redevelop and model the Ayodhya railway station building along the lines of the under-construction Ram Mandir has entered its second phase.
RITES (Rail India Technical and Economic Service Limited), a Public Sector Enterprise under the Ministry of Railways has invited bids for the Phase- 2 work of the station.
The holy land of faith, devotion and spirituality, Lord Ram's birthplace Ayodhya has been the focal point of the devotion and faith since ages. The place attracts innumerable devotees from all over the country.
The work of redevelopment of Ayodhya railway station and its circulating area was initially sanctioned in 2017-18, at a total cost of around ₹80 crore. The aim behind the ambitious redevelopment project was to enhance the passenger facilities, anticipating high footfall.
Two-phase Development
The plans for the redeveloped station include a 1400-square metres waiting area, separate dormitories for women and men, and other improved facilities. The number of platforms, however, will not be increased from the existing three after the redevelopment.
The entire redevelopment work has been divided into two phases.
The work on Phase – I which involved construction of a two-storey station building and development of circulation area started in November 2018. It has been completed a cost of 240 crore and will be ready for inauguration soon.
The second phase of the project includes construction of Plaza (composite structure covering the Platform and Railway Tracks) including roofing, platform Improvement, elevators / escalators & other allied works.
The work under second phase is estimated to cost Rs 380 Crore and has a completion time of 11 months.
Unique Architecture
The Ayodhya railway station building has been planned along the lines of the under-construction Ram Mandir – down to the stone used for construction.
The main building is a massive 10,000-square metre, two-storey structure built with pink Bansi-Paharpur stone from Rajasthan.
Pink sandstones from the hills of Bansi-Paharpur area in Bharatpur district of Rajasthan are being used in the construction of the temple.
Two shikhars (steeples) and four pyramid-like structures will be added to the main building to make it resemble the Ram Mandir. The Centre of the building will have a crown, and a bow and arrow atop.
The ongoing development work would accommodate an expected increase in footfall once the temple is completed.
According to the Shri Ram Janmabhoomi Teertha Kshetra Trust (SRJBTKshetra), the body responsible for the construction of the Ram temple, the ground floor of the temple would be ready by December 2023 and devotees would be able to offer prayers by January 2024, after 'pran pratishtha', or the installation of the deity.
However, the first and second floors of the temple will be ready by December 2024, even as the entire carving work will be complete by the end of 2025.