UDAN Scheme: Over Rs 2,300 Crore Given As VGF; Revival Of 100 Unserved And Under-Served Airports, Helipad And Water Aerodromes By 2024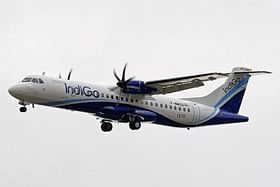 https://gumlet.assettype.com/swarajya/2021-10/dde785c3-6e6c-4a0f-ad30-2a9cb61cd80d/640px_F_WWED___ATR_72_600___IndiGo__test_in_flight___48929182202_.jpg
Encouraging the common man to avail air service, the government has doled out Rs 2355 crore as Viability Gap Funding (VGF) to selected airline operators, for the operation of UDAN (Ude Desh ka Aam Nagrik) flights.
Viability Gap Funding means a grant to support projects that are economically justified but not financially viable.
Since flying is no longer looked upon as an elitist luxury, but a necessary service, the Civil Aviation Ministry has launched Regional Connectivity Scheme (RCS) — UDAN on 21 October 2016, to stimulate regional air connectivity and make air travel affordable to the masses.
UDAN is a market driven scheme, where interested airlines based on their assessment of demand on particular routes, submit their proposals at the time of bidding. Bidding rounds are conducted from time to time for covering more destinations/stations and routes under the scheme.
Currently, more than 4,600 UDAN routes are being operationalised, out of which, Tourism Ministry has also given funds for more than 50 routes under the RCS-UDAN scheme.
A total number of 73 airports including, nine Heliports and two water aerodromes, have been operationalised, since 2017, under the UDAN scheme.
The government has approved the 'Revival of unserved and under-served airports' scheme for the development of 100 unserved and under-served Airports, Helipad and Water Aerodromes by 2024.
Under the UDAN scheme, the unserved and underserved airports/airstrips namely Ludhiana, Adampur, Bathinda and Pathankot have been identified in Punjab for operation of UDAN flights, till the completion of four rounds of bidding.
UDAN flight operations from the Ludhiana, Adampur, Bathinda and Pathankot airports have been commenced by the Selected Airline Operators.