Mumbai: PM Modi To Lay Foundation Stone For Chhatrapati Shivaji Maharaj Terminus Re-Development Project On 19 January; Bids To Open On 16 February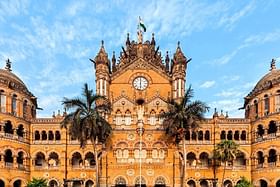 https://gumlet.assettype.com/swarajya/2023-01/cdb98e12-3438-4727-98a0-e5d77f0da1bc/unnamed.jpg
Putting an end to the long wait, Prime Minister Narendra Modi is slated to lay the foundation stone for re-development of Chhatrapati Shivaji Maharaj Terminus (CSMT) tomorrow (19 January).
Considered a significant development in real estate sector, CSMT, the iconic Mumbai station, will be re-developed on a total 36 hectares of land at an estimated cost of Rs 1,813 crore.  
The re-development of the CSMT, a UNESCO World Heritage Site, is planned with a view to decongest the southern heritage node of the terminus, augmentation of facilities, better multi-modal integration and to conserve and restore the world famous iconic structure to its past glory.
The tenders for the mega project are likely to be opened on 16 February. Rail Land Development Authority (RLDA), the agency responsible for re-development of the heritage property, had floated tenders inviting major real estate players last year for the project.
There were many big real estate players in the race to bag the prestigious project.
The Chhatrapati Shivaji Maharaj Terminus, formerly known as Victoria Terminus Station is an outstanding example of Victorian Gothic Revival architecture in India, blended with themes deriving from Indian traditional architecture.
The building, designed by the British architect F W Stevens, became the symbol of Mumbai (then Bombay) as the 'Gothic City' and the major international mercantile port of India.    
The terminal was built over 10 years, starting in 1878 and now it is ready for re-development after getting all due clearances.
Besides, CSMT, New Delhi Station and Ahmedabad stations are also to be re-developed for which multi-crore tenders have been floated.
According to the Railways, the re-development of railway stations across the country will have a multiplier effect on the economy with increased job creation and improved economic growth.
The project also envisages provision of a spacious Roof Plaza, facilities such as food court, waiting lounge, children play area, designated space for local products, etc.
The modification will integrate various modes of transport, like the Metro, bus etc., and will also integrate both sides of the city with the railway stations. The construction of station infrastructure will adopt green building technology and facilities for disabled persons as well.
The stations will be developed on the concept of intelligent building, having state-of-the-art facilities for passengers. It will create 'City Centre' like space at the station for the railway commuters, as well as, the general public.