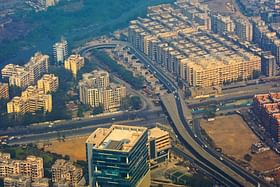 The Mumbai Traffic Police has announced that the Eastern Freeway will be closed for both south and north bound traffic during the night hours for construction work on the Eastern Freeway and Mumbai Trans Harbour Link (MTHL) Project-1, reports say.
The ramp's A, B, E and C1 will be closed from 12:00 am to 5:00 am for a total of 59 days between 17 January and 30 May this year.
DCP Traffic, Mumbai, has ordered the closure of the Freeway in order to facilitate the smooth movement of traffic and prevent danger, obstruction and inconvenience to the public.
The traffic police has also made arrangements for alternate routes during the closure of Eastern Freeway to avoid confusion.
Vehicles traveling south on the Eastern Freeway should turn left at Bhakti Park and proceed on Shanti Nagar Road and Dayashankar Chowk to reach the MBPT Road, then continue to their desired destination.
Vehicles traveling north on the Eastern Freeway should turn right at Wadibunder Junction and Orange Gate to reach the MBPT Road and continue to their desired destination.
Mumbai Trans Harbour Link
MTHL project, a 21.8 km long, 6-lane access-controlled sea bridge, is currently under construction. Expected to be completed this year, the bridge will connect Sewri in Mumbai to Chirle in Navi Mumbai.
The bridge will significantly reduce travel time between South Mumbai and Navi Mumbai, taking it down to a mere 15 to 20 minutes, as opposed to the current two hours. The sea link will offer a new route to key locations such as the Nhava Sheva Port, the Mumbai-Goa Highway, the Mumbai-Pune Expressway, and the upcoming international.
In December 2016, Prime Minister Narendra Modi officially kicked off the construction with a foundation stone laying ceremony, and work on the project began in April 2018. The Japanese International Cooperation Agency is financing 85 per cent of the project. The loan has been offered with a 10-year grace and a 30-year repayment period.
Also Read: India's Longest Sea Bridge 'Mumbai Trans Harbour Link' To Open For Traffic In November 2023