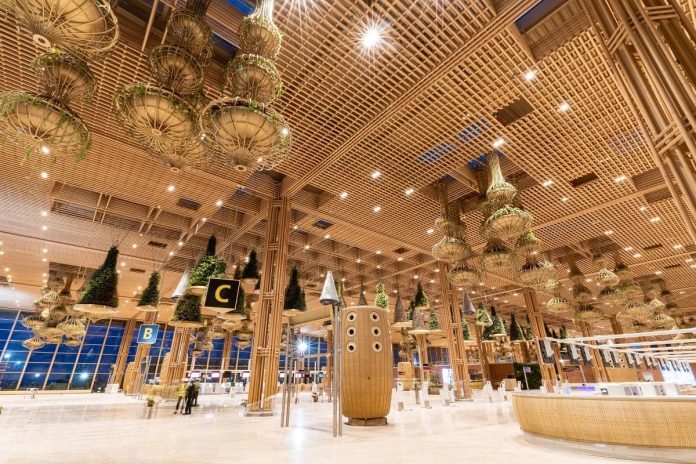 With the addition of 25 million passengers at T2, the overall capacity of KIA will reach nearly 60 million passengers per year.
The Kempegowda International Airport (KIA) is set to have a third terminal in the 2030s due to the increasing number of passengers.
Satyaki Raghunath, the chief strategy and development officer of Bangalore International Airport Limited (BIAL), announced this development.
During the launch of international flights from Terminal (T2), Raghunath shared that the first phase of T2 is expected to handle 25 million passengers annually.
Out of these, 10 million will be international passengers and the remaining will be domestic travellers. With the addition of 25 million passengers at T2, the overall capacity of KIA will reach nearly 60 million passengers per year.
Raghunath highlighted that the airport currently serves an average of 1 lakh passengers daily, with around 15,000 being international travellers. He expressed optimism that the new terminal will attract more international traffic.
In terms of operations, Raghunath mentioned that T1 will undergo refurbishment soon. IndiGo, Akasa Air, Alliance Air, and SpiceJet will continue to operate from T1, while T2 will handle the domestic operations of Air Asia, Air India, Star Air and Vistara.
New international routes are being planned for the future. This is an exciting development for travellers looking to explore new destinations.
Sampreeth Kotian, the operations head at T2, shared that T2 has become increasingly popular among flyers all over India. The positive response to the terminal has been encouraging and promising.
Many people have already started booking their international tickets through Bengaluru to experience the new terminal. This is a great source of encouragement for the team at T2, as per The New Indian Express report.
Currently, T2 is being used by 27 airlines, with 25 international and two domestic airlines serving 33 destinations. The number of airlines and destinations is expected to increase in the future, which is a testament to the success of T2.
Terminal 2
Spanning a built-up area of 255,000 sqm, Terminal-2, for which planning began in 2018, is equipped to handle at least 25 million flyers annually.
The first phase of T2 was constructed at a total expenditure of Rs 5,000 crore.
The new terminal is referred to as "Terminal in a Garden", and has been conceived as a dedication to Bengaluru, incorporating in its design the city's greenery, its blend of tradition and modernity, and its primacy as a technology hub.
T2 is built on the premises of 'sustainability', 'technology', 'innovation' and 'art'.
In October 2018, BIAL awarded the contract to L&T's Buildings & Factories business for the construction of the T2. The contract includes the design, procurement, engineering, construction, testing and operations of Terminal 2.