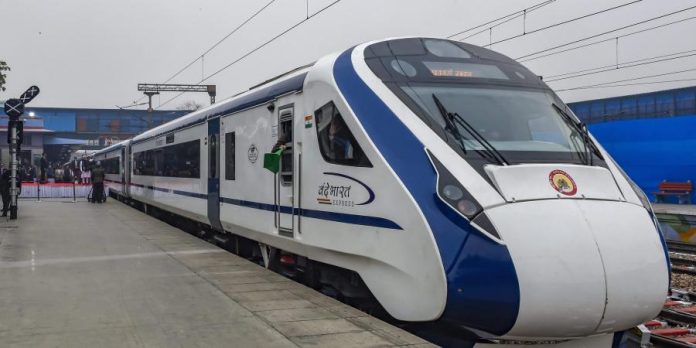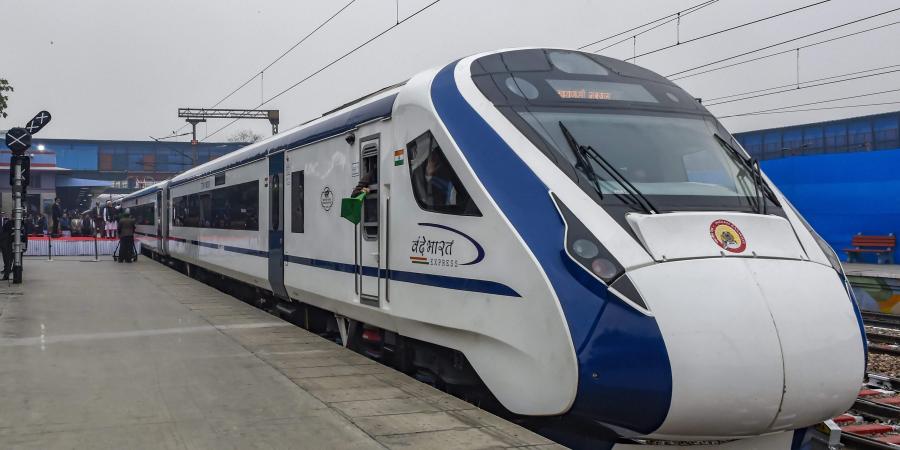 Snapshot
Most of the operational Vande Bharat trains run way below the designed speed due to track limitations on the route.
The indigenously designed semi high-speed Vande Bharat trains have unmistakably emerged as the next major leap for the Indian Railways (IR).
A Make in India success story, the trains have been a runaway hit with the commuters. However, it has amassed its share of criticism, with both general populace and political class waiting to find an excuse to run down the train.
With the railways planning to produce 475 Vande Bharat trains in the next three years including rolling out 75 Vande Bharat across India by Independence Day in 2023, it is naturally imperative to ascertain the road ahead for future of India's century-old railway system.
Vande Bharat
Vande Bharat Express, also known as Train 18 (T-18) is India's first semi high speed train. It is a collection of 16 coaches, self-propelled, and does not require a separate locomotive to haul them.
This is called distributed traction power (also known as trainset technology). This technology is increasingly becoming the norm world over, as opposed to conventional system of passenger coaches hauled by separate locomotives.
At present, six pairs of Vande Bharat Express are in operation over the IR network. The first Vande Bharat Express train was flagged off on 15 February 2019, on the New Delhi-Kanpur-Allahabad-Varanasi route.
On 11 December 2022, Prime Minister Narendra Modi flagged off the sixth Vande Bharat Express between Nagpur in Maharashtra and Bilaspur in Chhattisgarh.
What It Offers
Vande Bharat Express is India's first successful attempt at adaptation of trainset technology. Trainset configuration though complex than conventional train arrangement is faster, easier to maintain, consumes less energy, and has greater flexibility in train operation.
It can achieve a maximum speed of 160 kmph due to faster acceleration and deceleration and reduces journey time by 10 per cent to 20 per cent. Further, it has an intelligent regenerative braking system which can save up to 20 per cent of electrical energy, thereby making it cost, energy and environment efficient.
Speed Conundrum
The future-ready Vande Bharat (VB) trainset was designed for a top speed of 160 kmph. The reality, however, is far-removed from the hope.
Most of the operational VB trains run way below the designed speed due to track limitations on the route. The VB train on the Delhi-Varanasi corridor is running at 130 kmph between Delhi and Prayagraj and at 110 kmph on the Prayagraj-Varanasi section.
IR has only a small stretch of track and allied infrastructure between Delhi and Agra which is fit for trains to run at 160 kmph.
A project to increase the maximum speed of operation to 160 kmph on Delhi-Howrah and Delhi-Mumbai sections is in hand for some years. The project with a cost of about Rs 17,000 crore is targeted to be completed by March 2023, but is likely to be completed only by end of 2024 on account of significant delays.
"The upgraded Delhi-Howrah and Delhi-Mumbai section, would provide Indian railway with two long route which can be used to run VB trains for inter-city travel. It is conceivable that once this infrastructure is put in place, the maximum speed capability of Train 18 type rolling stock can be increased to 160 kmph," said Sudhanshu Mani, former GM of Integral Coach Factory, Chennai, and the chief architect of India's first Vande Bharat project.
Unless this happens, the railways would be forced to run the VB trains at a curtailed speed of 130 kmph and even at 110 kmph in some sections, to utter dismay of commuters.
Prevent CRO
The train has been constantly in news over past few months, owing to back-to-back run-ins with bovines. According to a statement made in the Lok Sabha, 68 cases of cattle run-over (CRO) involving Vande Bharat trains, over entire Indian Railways network, has been recorded since 1 June 2022, resulting in damages to nose cone of leading driving trailer car (DTC).
Train accidents involving cattle are not uncommon, as they roam freely for grazing in the areas near the railway tracks. It is not unusual at all, as India has large bovine population and cattle on the loose is common.
Unlike a locomotive, the trainsets do not have an ugly cow-catcher. The nose cone covering which provides aerodynamic profile to the train has been designed as a replaceable component to absorb energy resulting from inadvertent cattle run over cases without affecting safety of the trains.
The coupler cover fitted in front of Vande Bharat train, as part of the nose cone, is made of fibre-reinforced polymer/Plastic (FRP) to absorb the impact of hit with stray cattle. The damaged FRP coupler cover, can be easily replaced or repaired in depot without affecting any disruption in train services onwards.
Apart from this, the railways need to quickly fence all its semi-high-speed tracks to prevent future CRO incidents. The fencing of tracks is mandatory if the speed of the train zooms past 130 kmph.
The initial rolling of the trains was based on the belief that the railways would simultaneously fence the tracks to prevent any cattle trespassing. However, that didn't happen which led to repeated cattle run-over incidents affecting train operation.
"The train is meant for 160 kmph speed for which fencing is a requirement and so a cattle-hit-proof design was unnecessary; if the infra has not kept pace with the development of the train, the fault does not lie in its design but the slow upgrade of matching infrastructure," Mani said.
Indian Railways has finally decided to fence off about 1,000 km track on a fast-track mode in different sections in the major trunk route over next six months.
KAVACH
Apart from speed upgrades and fencing, the railways need to integrate these trainsets with KAVACH — indigenously built train collision avoidance system (TCAS).
"Fencing is essential for complete capacity utilisation of VB Trains. KAVACH even though not essential is preferable for increasing the line capacity and will boost safety in trains operation," Mani said.
Railways has already installed KAVACH in Vande Bharat 2.0. So far, "Kavach" has been deployed for 1,455 route Kms on South Central Railway with 77 number of locomotives. Currently, KAVACH work is in progress on Delhi-Mumbai and Delhi-Howrah corridors.
 Generational Leap
Indian Railways rolled out its first Vande Bharat Express prototypes in 2019. The new Vande Bharat 2.0 introduced in 2022 is an improvement over the prototypes with the first train being flagged off by the Prime Minister on 30 September 2022 from Gandhinagar to Mumbai.
The Vande Bharat 2.0 comes with enhanced safety features, better ride index and passenger amenities over its predecessor. It is able to attain maximum speed up to 180 kmph (the predecessor was also tested at 180 kmph and as such it is not a novel feature) and is lighter, weighing 392 tonne instead of the earlier 430 tonne.
Railways is reportedly working on the third version of this train which will offer a maximum speed of 200 kmph. However, the moot concern is the that let alone a track suitable for such a speed, even a test track to test the train is not available in the country.
At a time when the existing rakes are unable to run at their designed speed, questions will invariably be raised at the utility of newer versions with better speeds. Rolling out upgraded rakes is less costly and challenging affair as compared to infrastructure upgrade.
IR must look at its strategy closely as any delay in infra upgrade would be a huge deterrent to efficient capacity utilisation of VB rakes. Ideally, both should go hand-in-hand with a skewed focus on timely completion of infrastructure projects so as to support newer versions of the train.
Route Optimisation
At present, six pairs of Vande Bharat Express trains are in operation over the Indian Railways' network. A look at the routes clearly hints that there is no logical explanation to them.
With railways working on rolling out 400 such trains in next three years, it would be prudent to have a policy in place to decide which route should be serviced by these trains on a priority basis.
According to Sudhanshu Mani, the railways, in short-term, should work on a three-pronged strategy to decide the routes for these trains.
To start with, IR should identify some, say 25 inter-city pairs with a travel time of around six to seven hours and limited reported minimum cases of cattle run-over. The selected routes should be prioritised for new VB rakes.
As a next step, the railways should work on running VB rakes from selected depots with a major part from Delhi. The national capital has an established depot with adequately trained manpower and resources for proper maintenance of these trains.
Also, efforts should be made to run these trains between those sections which support a maximum speed of 130 kmph. This would at least ensure partial utilisation of the designed capacity of these trainsets. Once the speed upgradation programme on Delhi-Howrah and Delhi -Mumbai route is completed, newer trains ought to be deployed on them.
What Lies ahead?
Train 18 propelled India into the exclusive club of some 10 countries in the world that manufacture their own semi high-speed trains. At a time when low-cost airlines and improved road connectivity is offering stiff competition, the new trains can help the railways retain traffic and even grow it.
With timely execution and demand consideration for various passenger classes, the Vande Bharat project would be a win-win for end users and the railway.
Impact of this train, matching global standards of performance, safety and passenger comfort and yet costing less than half of global prices, has the potential to be a game changer in the global rail business.