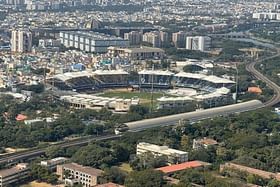 Kancheepuram, Chengalpet, Tiruvallur are future growth centres.
Besides achieving decongestion of the main city, the development of new towns provides avenues and opportunities for jobs and services, while also creating a regional sustainable economy of its own.
In a recent development, the state government has notified the villages in Kancheepuram, Tiruvallur and Minjur for its proposed development into new towns, as part of Chennai Metropolitan area.
This notification follows the decision of the Chennai Metropolitan Development Authority (CMDA) for the expansion of Chennai city from 1,189 sq km to 5,904 sq km.
This expansion will include as many as 1,225 new villages — in surrounding growth centres of Kancheepuram, Minjur, Tiruvallur, Thirumazhisai and Chengalpet — to develop as new town areas, for decongestion of Chennai.
Residents of the villages, local bodies and institutions have been asked to submit objections or suggestions in writing, two months from the date of notification of the area.
Policy For Developing Satellite Towns
The major cities in India today are constantly growing, with the fast-paced progress and expansion of India's economy.
Availability of job opportunities, better living conditions and advanced infrastructure has led to influx of population and resources concentrating in the metropolitans — making cities like Delhi, Mumbai, Kolkata, Bengaluru and Chennai saturated in terms of land availability, pollution control, congestion and accessible basic resources for all.
This high demand has led to a sprawl in the surrounding fringes of these larger cities. Such expansions have become the convenient alternative for urban growth, creating satellite towns. This additionally opens avenues for the surrounding regions, by their integration with the major city's economy.
However, certain expansions around megacities also become victims of unplanned and haphazard growth, leading to increased developmental challenges and hindering the regions' growth potential.
The CMDA aims to concentrate on creating Thirumazhisai, Minjur, Tiruvallur, Kancheepuram and Chengalpet as satellite towns around the state's capital city.
The authority is working on a macro-level regional strategic plan, for developing the surrounding areas to be integrated in the city's masterplans, to prevent such careless expansion.
This will promote planned development of these localities and allow a regulated utilisation of land, resources and capital with the incoming growth prospects.
Chennai city stands in the top five most populated agglomerations in India and has a long and well-established economic processing zone.
The city's economic base is anchored by the presence of multinational manufacturing units, service-oriented industries, national and multinational financial institutions offering a range of services such as banking, finance, insurance, marketing at global standards, successfully drawing people across India and the world.
Planning For Systematic Growth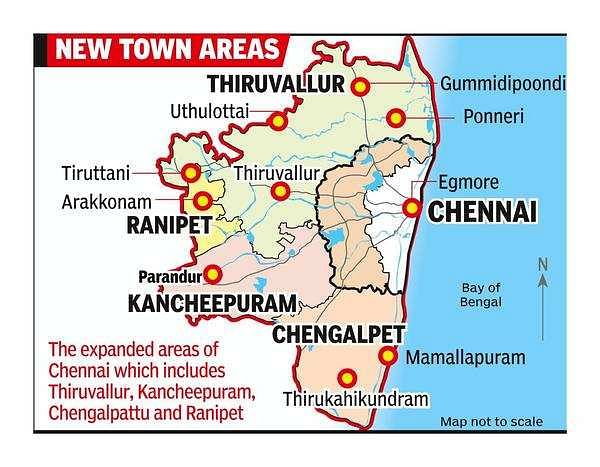 The planned development of satellite towns aims to provide a perfect balance between the incoming population, resources and opportunities.
It allures real estate growth, influenced by the demand in the vicinity of megacities and are developed with easy access to all comforts and infrastructure facilities.
This involves enhanced and convenient commute with wider roads, better traffic infrastructure and a balanced growth in the emerging housing, commercial and industrial sectors.
Besides achieving decongestion of the main city, it provides avenues and opportunities for jobs and services, while also creating a regional sustainable economy of its own.
In most cases, the planning vision for these surrounding satellite towns brings in the opportunity to counter the development challenges faced in the existing mega cities and move forward on advanced planning lines.
Other prominent satellite areas around megacities in India includes — Gurugram, Noida, Ghaziabad and Faridabad surrounding Delhi. Mumbai city is surrounded by developing areas of Navi Mumbai, Dombivli, Thane and more.
In Bangalore, there are a few prominent satellite townships like Kengeri and Yelahanka. Hitech City in Hyderabad, Salt Lake City in Kolkata, Pimpri-Chinchwad in Pune and Mohali in Chandigarh are other such expanded or planned developments.
Following this, the CMDA has realised the growth potential of Chennai city's surrounding regions.
Hitesh Kumar S Makwana, Housing and Urban Development secretary, said Kancheepuram, Chengalpet, Tiruvallur are future growth centres. This proposal will help in making a detailed master plan for Chennai, inclusive of the growth of the neighbouring towns.
The planning authority is also in the process of preparing sector-specific strategic plans for these satellite towns.
Kancheepuram, also known as the 'City of thousand temples', with its municipal area and 17 villages along the Chennai-Bengaluru National Highway (NH), has been selected for the planned development to the extent of 62.78 sq km including Enadur, Nallur and Vaiyavoor.
The areas along the Chennai-Bengaluru NH carry favourable character for economic growth due to the highway connectivity.
Currently, Kancheepuram is developing commercial establishments in a haphazard manner, with traffic congestion in the core area.
In Tiruvallur, 11 villages such as Paleswaram, Athupakkam and Ariyapakkam have been specified for inclusion in the development of a new town. The area of the new town is 37.74 sq km as per the notification. The area has access to NH 716A Tirupati Road and the Chennai Peripheral Ring Road.
Another urban growth centre, Minjur, will be developed covering 12 villages, including Vallur, Athipattu, Ennore and Nandiambakkam, in an area of 111.62 sq km. Proximity to major ports such as Ennore and Kattupalli are considered important factors in determining the villages for the plan.
Further, the CMDA is also looking at developing key sectors in each satellite town to boost employment and economic growth.
In Kancheepuram, they are looking at developing the silk weaving industry, agriculture processing sector and heritage goods. In Chengalper and Tiruvallur, it will mostly be industries. In Thirumazhisai, CMDA will promote education and industry sector.