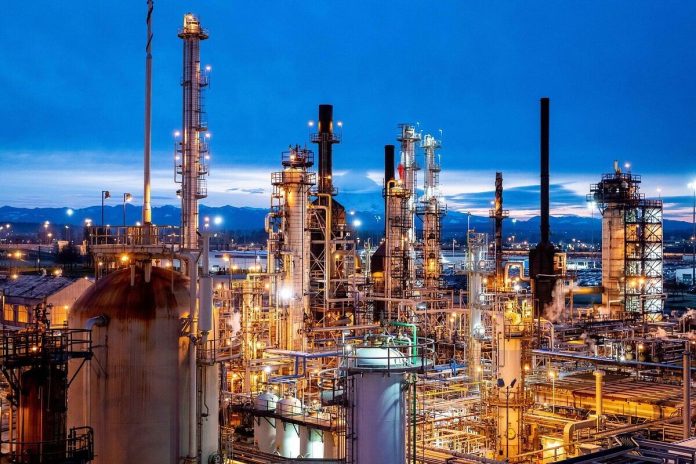 The West Coast refinery project is India's first and largest greenfield refinery project with a production capacity of 60 million tonnes per annum.
It is touted to become the largest integrated refinery and petrochemical facility in the world.
During the state visit of Crown Prince Mohammed Bin Salman of Saudi Arabia, Prime Minister Narendra Modi and the Saudi Crown Prince on Monday agreed to speed up the implementation of the $50 billion West Coast refinery project.
The two leaders agreed to establish a joint taskforce to expedite the West Coast refinery project, marking a significant step in their partnership.
West Coast Refinery Project (WCRP)
West Coast refinery project will be India's first and largest greenfield refinery project with a production capacity of 60 million tonnes per annum and is touted to become the largest integrated refinery and petrochemical facility in the world.
It aims to build an integrated refinery and petrochemical complex on Maharashtra's west coast. Three of India's leading government-owned public sector undertakings in the oil and gas sector came together in a joint venture partnership called Ratnagiri Refinery and Petrochemicals Limited (RRPCL)
RRPCL is a 50:25:25 joint venture formed in 2017 by India's three national oil companies, Indian Oil Corporation Limited (IOCL), Bharat Petroleum Corporation Limited (BPCL), and Hindustan Petroleum Corporation Limited (HPCL).
In 2019, Saudi Aramco and Abu Dhabi National Oil Company joined the venture to collectively own a 50 per cent stake in the project, which is expected to bring $35 billion of foreign direct investment to India.
In addition to fuels, the project will produce a variety of downstream petrochemicals to suit India's rapidly rising fuels and petrochemicals needs.
Both India and Saudi Arabia have agreed to extend their full support to the West Coast refinery project, a trilateral initiative involving Aramco, Abu Dhabi National Oil Company (ADNOC), and Indian companies.
With $50 billion already allocated, the two sides have additionally agreed to form a joint taskforce to facilitate the investment of the promised $100 billion.
This investment includes funds dedicated to the refinery project. The Ministry of External Affairs Secretary, Ausaf Sayeed, announced the elevation of energy ties between Delhi and Riyadh to a comprehensive energy partnership, reports The Hindu.
A monitoring committee will be established to ensure the project remains on a fast track. Furthermore, both countries have committed to working on the India-GCC Free Trade Agreement, building upon the Saudi Crown Prince's visit to India in February 2019, during which a $100 billion investment pledge was made, and the energy project was initially proposed.
WCRP necessitates the acquisition of a 15,000-acre land bank, slated for transformation into an extensive refinery-petrochemical complex. This complex will encompass three refining units, each boasting a 20 million metric tonne capacity, collectively capable of processing 1.2 million barrels of crude oil daily.
The project will also encompass various critical facilities such as marine storage and port infrastructure, three single-point moorings, a pipeline end manifold, four 48-inch submarine pipelines, small jetties, anchorage areas, a crude oil terminal, crude oil storage and blending plant, desalination plant, on-site utilities, and other essential components.
The pre-feasibility study for the project has been successfully conducted by Engineers India Limited and Jacobs Engineering.
Significance Of WCRP
The WCRP presents significant opportunities for US energy companies, including consultants specialising in refinery design, technology, and IT, licensors of refinery and petrochemical technology, as well as manufacturers of process automation equipment, chemicals, and catalysts.
Notably, the WCRP developers are particularly interested in collaborating with foreign suppliers specialising in niche petrochemical technology.
Such collaboration aims to enhance the complex's capabilities for producing value-added petrochemical products, ultimately increasing the project's profitability while reducing India's dependence on imported petrochemical products.