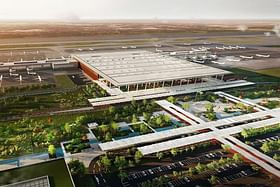 The upcoming Noida International Airport (NIA) at Jewar in Uttar Pradesh may soon have rail and road link with the nearby cities like Greater Noida and Bulandshahr.
The Yamuna Expressway Industrial Development Authority (YEIDA) has started working on the 16-km-long, 100-metre-wide expressway and a railway track of the same length between Chola station in Bulandshahr and the airport site, as reported by ET Infra.
The proposed expressway and railway track will make travelling to the airport from Bulandshahr convenient and benefit the logistics and warehousing sectors coming up in the vicinity.
"MARS Planning & Engineering Services, which has been working on several YEIDA projects, has been tasked with preparing preliminary reports on both projects in 15 days. We will send the railway track report to the railway ministry for further action," said YEIDA CEO Arun Vir Singh.
Singh added that while YEIDA would construct the expressway, the railways would build the tracks.
The move to build new connectivity to Bulandshahr follows restructuring of the YEIDA jurisdiction.
The Uttar Pradesh government in February 2023 had added 55 villages from Khurja and Secunderabad tehsil areas in Bulandshahr district to the YEIDA territory.
The authority area has been extended to the Delhi-Howrah railway route, and the under-construction eastern dedicated freight corridor, which runs parallel to the Delhi-Howrah railway line.
Priority has been given to this area due to its logistics and warehousing opportunities as it is located between a railway station and an airport.