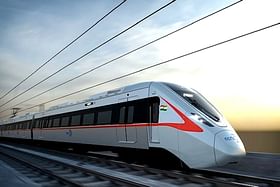 The 17-km priority corridor of the Delhi-Meerut Rapid Rail Transit System (RRTS) between Sahibabad and Duhai Depot is set to begin its service soon, a report in the Economic Times Said.
The priority stretch with five stations — Sahibabad, Ghaziabad, Guldhar, Duhai and Duhai Depot — was previously, supposed to be operationalised by June this year but is now ready for commissioning by the end of this month, the report said quoting NCRTC officials.
However, the date and time of its inauguration is not yet known.
The RRTS is a new, rail-based, dedicated, high capacity, comfortable commuter service. The country's first RRTS which is coming up in Delhi-National Capital Region (NCR) has been named as RAPIDX. The train will cover a distance of 82 km between Delhi and Meerut in 55 minutes instead of three hours.
With a design speed of 180 kmph and an average speed of 100 kmph, it aims to connect the national capital, Delhi with its suburbs.
The Rapidx train services will have six to eight coach cars with one dedicated for women and one for business class, and premium services. The business class coach will have a separate entry through AFC on the platform level. It will also have a dedicated train attendant for the convenience of commuters.
The RapidX trains will be available to passengers at an initial frequency of 15 minutes, which can also be reduced to three minutes when required. The waiting time at the station for picking up and dropping off passengers will be about 30 seconds, which can also be increased based on ridership, said Puneet Vats, chief Public Relations Officer (PRO) of NCRTC.
The project is being implemented by the National Capital Region Transport Corporations (NCRTC) which works under the administrative control of Ministry of Housing and Urban Affairs (MoHUA) and is a joint venture of the Government of India (50 per cent) and state governments of Haryana (12.5 per cent), NCT Delhi (12.5 per cent), Uttar Pradesh (12.5 per cent) and Rajasthan (12.5 per cent).
The NCRTC is aiming to commission the entire Delhi-Ghaziabad-Meerut corridor for the public by 2025.