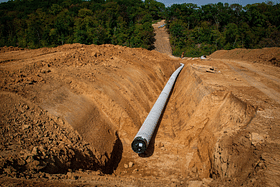 Asia's longest, and the world's second-longest, underwater hydrocarbon pipeline has just been laid below the Brahmaputra's riverbed.
The 24-inch diameter pipeline, under all the major and minor water channels of the river, spanning 5780 metres, is an engineering marvel of sorts.
The pipeline has been laid by (IGGL), a joint venture of five oil public sector undertakings which had to overcome tough challenges posed by frequent floods and other climatic adversities.
The pipeline that connects Jorhat in Upper Assam with Majuli was laid by the horizontal directional drilling (HDD) method.
The work was completed Friday (21 April), marking a major milestone in the construction of the North East Gas Grid connecting North East India to the National Gas Grid.
Two HDD rigs started drilling simultaneously from both banks of the river, and the two drilling heads met at the middle of the river 30 metres below the riverbed.
The main water channel of the Brahmaputra at the point where the drilling took place spans 4,080 metres. The pipeline was laid in three separate HDD sections of length 1,000 metres, 4,080 metres, and 700 metres, with the first and the third sections completed earlier.
The next step, said IGGL CEO Ajit Kumar Thakur, will be the tie-in of the three sections at two points that lie 15 metres and 8 metres below natural ground level (NGL).
With the completion of the underwater section below the Brahmaputra, IGGL has finished more than 71 per cent of the North East Gas Grid project, said Thakur.
The Guwahati-Numaligarh section of the project will be completed by February next year.
Indradhanush Gas Grid Ltd is a joint venture of the public sector (IOCL), (ONGC), (GAIL), (OIL), and Numaligarh Refinery Ltd.
The entire project will be completed by next year and will facilitate flow of gas to the North East.
The availability of piped gas in all major urban centres of the North East is part of Prime Minister Narendra Modi's 'Astha Lakshmi' initiative to accelerate development of the region that has remained neglected under previous Congress governments.
Availability of piped gas will drastically reduce dependence on fossil fuels and firewood for domestic use, and will reduce the region's carbon footprint.