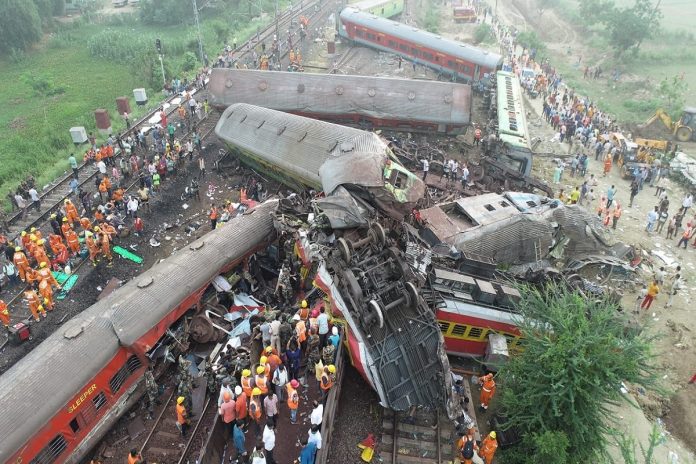 Three days after the Balasore train tragedy in Odisha, a strong suspicion that "deliberate interference" in the electronic interlocking system could have been the cause is gaining ground.
Many senior railway officials talking to Swarajya said that the primary investigation has pointed fingers at human interference.
Unless there was "deliberate interference" in the electronic interlocking system, the crash could not have happened, they maintained.
They said during the investigation they have come across information which required "professionals" to investigate and establish the cause of the accident.
Though the Railway Minister said that the electronic interlocking is a very safe way of interlocking, it can only fail-safe.
So, unless there is a deliberate interference in the entire system it's not possible that a route which is set for the main line for a train is switched to the loop line. That particular angle and all other angles need to be investigated.
According to sources, it was found during the initial probe that some sort of "manual tinkering" was done with the logic of electronic interlocking in the cabin at Bahanaga Bazaar Station.
They said the CBI probe is needed to establish the purpose of such manual tinkering with the basic concept of this "foolproof system". The officials said the electronic interlocking used by Indian Railways has got the Seal 4 certification, which is the best and given for 100 per cent safety.
In response to a question on the need for Railway Board to recommend CBI investigation into the matter, a senior railway official said, "At this this stage, because it is a very important investigation being carried out, I will only say that".
On the issue of seeking CBI inquiry, the railways maintained that a lot of information has come during the course of initial investigation and the various kinds of information available required a professional investigation. That's why a CBI investigation was recommended.
However, the railways did not respond to a question whether the relay room where the signalling system is kept was open in this case.
However, in a circular issued to all the railway zones on Monday, the Railway Board has instructed them to "secure the goomties (temporary shed) housing signalling equipment on railway station premises with a 'double-lock' arrangement."
The devastating train accident has claimed the lives of 275 passengers and left over 900 injured.
Several railway experts have said that once a train route is set and locked it cannot be changed until the train completes its journey on the locked route. Officials said hence there is a high possibility of interference in the system to bypass the set procedure.