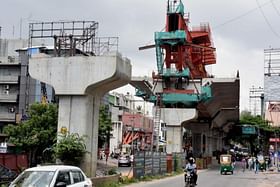 The four-lane flyover, started in 2017, connecting Ejipura Main Road and Kendriya Sadan in Koramangala, remains incomplete even after six years.
The Bruhat Bengaluru Mahanagara Palike (BBMP) has floated the fourth tender to complete the Ejipura flyover.
The construction of this 2.5 km elevated road flyover connecting Ejipura main road and Kendriya Sadan in Koramangala remains incomplete even after six years.
As per the new tender, the remaining work is estimated at Rs 143.80 crore.
Earlier this year, the civic authority, assured representatives of the area that the structure will be completed within March 2024, as per a Times Now News report.
This development came in when the civic body had previously invited bids for a tender worth Rs 144 crore to complete the project, in January 2023.
However, in February, BBMP scrapped the Ejipura-Kendriya Sadan flyover tender. This was the third cancellation of the construction contracts.
The cost estimate was the main reason for the scrapping the previous tender as the lowest bidder had quoted around 40 per cent more than the estimates provided by the civic body.
As per a report by The Indian Express, a BBMP engineer said, "A lone bidder, BSCPL Infrastructure Limited quoted Rs 205 crore, far higher than our estimation. So, we could not get the financial approval. We will now review price estimation with the help of a private consultancy. It will help us to analyse if our estimation was far below what the firm had asked. Once the review is done, we will float a new tender."
The prolonged time taken for the construction of the elevated road has given rise to several concerns among the city's inhabitants — with construction debris dumped beneath the flyover over the years.
The residents of Ejipura and Koramangala also staged a protest against the civic body for the completion of the project.
Series Of Tender Cancellations
The four-lane flyover was initiated in 2014, with the primary objective of providing a signal-free movement and reduce congestion on the busy road passing through Koramangala.
In 2017, the contract for the project was awarded to Simplex Infrastructures, with a 30-month completion period. Accordingly, December 2019 was fixed as the deadline for this project finishing.
However, only 32 per cent of the work was completed till 2022. This also resulted in widespread protests by the residents.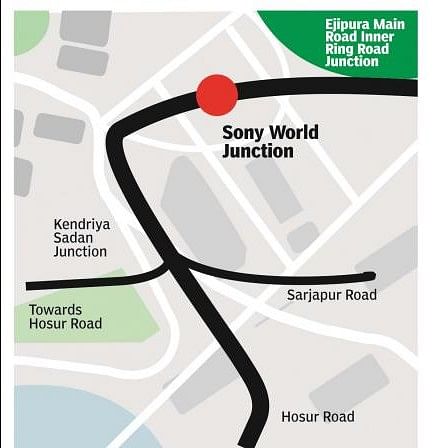 In February 2022, the Karnataka High Court instructed the civic body to file charges against Simplex Infrastructures Limited for the delay in constructing the flyover and misusing funds.
As a result, the BBMP cancelled the tender awarded to Simplex Infrastructures, due to the non-completion of the work.
The civic body then, invited fresh tenders to complete the construction in August 2022.
However, the tender was cancelled as only two firms participated and both were rejected as they did not qualify the criteria.
Thus, the process for completion of the elevated road was followed by the aforementioned third tender floating and cancellation in February 2023.