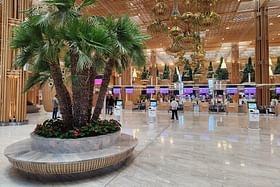 Starting 1 September, all international flight operations at the Kempegowda International Airport (KIA) will be shifted to Terminal-2 (T-2).
The state-of-the-art Terminal 2 of Bengaluru airport was inaugurated by Prime Minister Narendra Modi on 11 November 2022. At present, T-2 is operating only domestic services. Three domestic carriers, Star Air, AirAsia India, and Vistara are operating from the new terminal.
Currently, all international flights operate from the 15-year-old Terminal-1 (T-1). With the shifting of all international flight operations to T-2, the old terminal or T-1 will cater to only domestic operations.
"International operations will be completely relocated to T2, while Terminal 1 (T1) will exclusively serve as a domestic terminal. 1 September is the firm date for the collective transition of all international airlines from T1 to T2. The transition will not be carried out in phases, as immigration counters and customs office need to be set up. At midnight on August 31, all international traffic will be shifted to T2. This overnight transition is quite exciting," Hari Marar, MD and CEO of Bangalore International Airport Ltd (BIAL), which operates KIA, said.
During FY 2022-2023, Kempegowda International Airport recorded a total of 31.91 million passengers which included 28.12 million domestic passengers and 3.78 million international passengers.
The airport is connected to 25 international destinations and a dedicated terminal for international flights will solidify its position as a major aviation gateway in the region.
Terminal-2
Spanning a built-up area of 255,000 sqm, Terminal-2, for which planning began in 2018, is equipped to handle at least 25 million flyers annually.
The first phase of Terminal-2 was constructed at a total expenditure of Rs 5,000 crore.
According to airport authorities, once Phase-2 is completed, the terminal will have the capacity to cater to an additional 20 million passengers. With the integration of Terminal-1 and Terminal-2, the airport's overall capacity will reach a minimum of 65 million passengers annually, added the officials.
The new terminal is referred to as "Terminal in a Garden", and has been conceived as a dedication to Bengaluru, incorporating in its design the city's greenery, its blend of tradition and modernity, and its primacy as a technology hub.