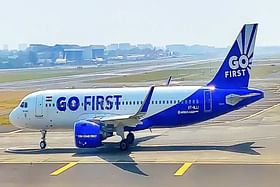 Domestic budget airline Go First on 02 May announced that it has filed an application for voluntary insolvency resolution proceedings before the National Company Law Tribunal (NCLT), Delhi.
The announcement was made by the airline's CEO Kaushik Khona shortly after Go First said it will temporarily suspend its flight operation on 3 May and 4 May due to a severe fund crunch.
"It is an unfortunate decision, but it had to be done to protect the interests of the company," he said.
"The flights will resume operation once the NCLT admits the application," said Khona.
Go First is facing a financial crunch due to non-supply of engines by Pratt & Whitney (P&W), which has forced the company to ground 28 planes, which is more than half of its fleet.
Meanwhile, the Wadia group-owned airline has filed an emergency petition in Delaware court against US aerospace major Raytheon Technologies- maker of the Pratt & Whitney engines over non-supply of engines, on
According to reports, the petition contends that there is a "significant risk that Go First will go out of business and be forced to declare bankruptcy" if not given engines soon.
The PW-1100G geared turbofan (GTF) engines have faced diminished service reliability leading to around half of the airline's fleet being grounded.
The airline's fleet comprises 54 aircraft and approximately 90 per cent of them are A320neo aircraft with PW engines.