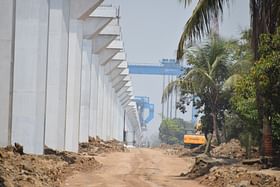 Racing against time, the work execution on the Mumbai-Ahmedabad high speed rail corridor — India's first bullet train project — has progressed 25 per cent as against a 30 per cent target, at the end of January 2023 with the total cost incurred at Rs 36,722.60 crore.
According to the report prepared by NHSRCL and submitted to the Railways, the agency responsible for the implementation of the bullet train project, overall physical progress is 25.63 per cent as against the target of 30.06 per cent till January 2023, a shortfall of 4.43 per cent.
With the target shortfall of over 4 per cent, it would be tough to meet the August 2027 target to make the over 300-km-long route operational in Gujarat.
Since the project is much behind the schedule in Maharashtra, the Railways is exploring possibilities to make the Gujarat portion operational by 2027.
According to the report, the project has incurred expenditure of Rs 11,353.14  crore in the financial year of 2022-23.
The 508.09-km-long Mumbai-Ahmedabad high speed rail corridor connects the two financial hubs located in Maharashtra and Gujarat, respectively.
During the journey, the train will halt at 10 cities — Thane, Virar, Boisar, Vapi, Bilimora, Surat, Bharuch, Vadodara, Anand, Ahmedabad and Sabarmati.
According to the NHSRCL, there are various reasons for not being able to meet the target. Besides delay in the tendering process in Maharashtra, there is also delay in mobilising major equipment, due to port congestion during the Covid-19 pandemic.
Till now, the land acquisition in Gujarat is 98.91 per cent, 98.79 per cent in Maharashtra and 100 per cent in Dadra and Nagar Haveli.
The delay and the fluctuating Yen price has escalated the cost many times since the initial estimate of over Rs 1.08 lakh crore, with 80 per cent Japanese funding as an easy loan.
India's first bullet train project is slated to hover around Rs 1.60 lakh crore and likely to touch Rs 2 lakh crore by the time of completion.