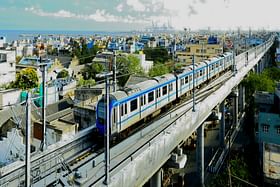 The stretch from Sholinganallur to SIPCOT is expected to be opened by 2027.
Chennai Metro Rail Limited (CMRL) has commenced the construction of pillars along Old Mahabalipuram Road (OMR) for phase II of the project.
The construction along OMR, which falls under corridor 3, is being carried out through two separate contracts — Nehru Nagar-Sholinganallur and Sholinganallur-SIPCOT.
The phase II project of Chennai Metro Rail, with three corridors — Madhavaram to SIPCOT  (corridor 3), Light House to Poonamallee (corridor 4), and Madhavaram to Sholinganallur (corridor 5) — is progressing well.
The total cost of the project is Rs 61,843 crore.
The stretch from Sholinganallur to SIPCOT is expected to be opened by 2027, provided there are no delays in the upcoming months.
Some stretches, such as Poonamallee-Porur and Madhavaram-Retteri, are likely to be the first to be opened to the public by 2026.
CMRL plans to build the Nehru Nagar-SIPCOT portion as a fully elevated stretch with 19 stations, according to this The Hindu report.
While the work between Nehru Nagar and Sholinganallur has been ongoing for a while and is progressing well, the work on the Sholinganallur-SIPCOT stretch started more recently. The contractor has now begun building the test pile, and after a month, the piling work will commence in full swing, according to CMRL officials.
"We anticipate fewer obstacles on OMR compared to other stretches like Alandur-Adambakkam or Porur-Power House. The initial delay in awarding the contract and commencing work was due to design changes. However, with land acquisition nearing completion, we aim to complete the project within three years and begin public operations as soon as possible," stated a representative from CMRL.