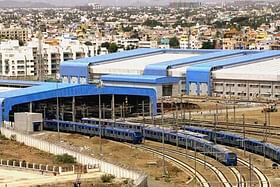 Chennai Metro Rail Ltd (CMRL) will construct a small depot with basic facilities at SIPCOT as part of the phase II plan.
The expansion of Metro Phase II is planned with a network length of 118.9 km with 128 stations.
It consists of three corridors, namely Corridor-3 from Madhavaram to SIPCOT (45.8 km), Corridor-4 from Lighthouse to Poonamalle Bypass (26.1 km), Corridor-5 from Madhavaram to Sholinganallur (47 km).
Initially, the CMRL intended to construct its biggest depot at Madhavaram and two more depots at Poonamallee and SIPCOT. However, they decided to scrap plans for the SIPCOT depot to reduce the project expenses from Rs 80,000 crore to Rs 61,843 crore.
Koyambedu and Wimco Nagar have two operating depots.
CMRL officials plan to construct a depot for corridor 3, connecting Madhavaram and SIPCOT, as part of the phase II project. While one depot each will be built in Madhavaram and Poonamallee for Corridor 5 and Corridor 4 respectively.
The SIPCOT depot's location will soon be decided as its designs are being finalised. It will comprise 8 to 10 stabling lines, a washing plant, and inspection plus repair lines.
After design approval, tenders will be called for, with an estimated cost of around Rs180-Rs 200 crores, said CMRL official.
Metro stations are typically designed to be spaced every 1 km with the intention of facilitating easy access to transportation as well as ensuring convenient emergency evacuation routes.
In order to achieve this reduction in cost, CMRL decided to cancel the maintenance depot planned at Siruseri SIPCOT. This was replaced with stabling lines meant for parking trains.
Furthermore, a few stations that were initially supposed to be underground were changed to elevated stations.
The Phase-I of the Chennai metro is fully operational. It consists of a 54.1 km network with two corridors — Corridor-1 from Wimco Nagar to Airport and Corridor-2 from Chennai Central to St Thomas Mount.
There are 41 stations of which 21 are underground and 20 elevated.