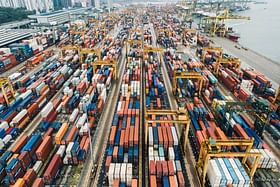 Decks have been cleared for the development of the first Multi Model Logistic Park (MMLP) in Bihar.
The State Cabinet in its meeting held on 13 January approved the acquisition of 100 acres of land in Fatuha near Patna for the state's first MMLP. The state government will incur an expenditure of Rs 168.93 Crore for the land acquisition.
Fatuha is an important industrial center known for small industries and its handloom industries and lies 24 km east of Patna, the capital of Bihar.
The State Cabinet also gave its nod for signing a Memorandum of Understanding (MoU) with the National Highway Logistics Management Limited (NHLML) which is the nodal agency for implementing the MMLP projects in the country.
Patna MMLP will have both road and rail links and will reduce cost of transport of goods in and out of Bihar significantly.
35 MMLPs Under Progress
The Ministry of Road Transport & Highways (MoRTH), under the first phase of Bharatmala Pariyojana, is constructing 35 MMLPs at some of the highest freight movement regions in the country.
These MMLPs are targeted to reduce logistics costs to less than 10 per cent of the gross domestic product (GDP). Currently, logistics account for 14 per cent of GDP – making India far less competitive on the global stage.
Out of 35 MMLPs approved for implementation, five are in the state of Gujarat, followed by four in Maharashtra, three in Punjab, and two each in Andhra Pradesh, Haryana, Madhya Pradesh, Odisha, Rajasthan and Tamil Nadu.
One MMLP each has been approved in the states of Assam, Bihar, Chhattisgarh, Goa, Himachal Pradesh, Karnataka, Kerala, Telangana, West Bengal and the UT of Delhi and Jammu and Kashmir.
DBFOT Model
The NHLML will create a Special Purpose Vehicle (SPV) for the MMLP project with members from private contractors, State government, roadways, railways, power utilities and other stakeholders.
The SPV will select a concessionaire through competitive bidding for the development and operation of the MMLP. The SPV will provide land and connectivity but the actual MMLP infrastructure will be developed by the selected concessionaire.
The 35 MMLPs are being developed under Public Private Partnership (PPP) framework on Design, Build, Finance, Operate and Transfer (DBFOT) mode.
The chosen concessionaire will build, finance and operate the facility for a fixed duration or concession period, and then the asset shall be transferred to the public sector authority.
A Model Concession Agreement (MCA) has been devised for 35 MMLPs. The MCA provides for starting commercial operations within two years of the start of the project.