In a setback to the expansion of Delhi's Metro network, the Delhi Metro Rail Corporation (DMRC) has revised the deadline for three corridors under Phase-IV.
Under Phase- IV, the Delhi Metro is adding 65.20 km of new lines across three different corridors in the national capital, with 46 metro stations. Out of these, 28 km will be underground, and the rest will be elevated. There will be 11 new interchange stations under this expansion.
These include the Janakpuri West-RK Ashram Marg (29.04 km), Majlis Park-Maujpur (12.55 km), which are extensions of the already operational Magenta Line and Pink Line respectively, and Tughalakabad-Aerocity (23.62 km) that is being built as 'Silver Line', connecting the operational Violet Line and Airport Line from the respective ends.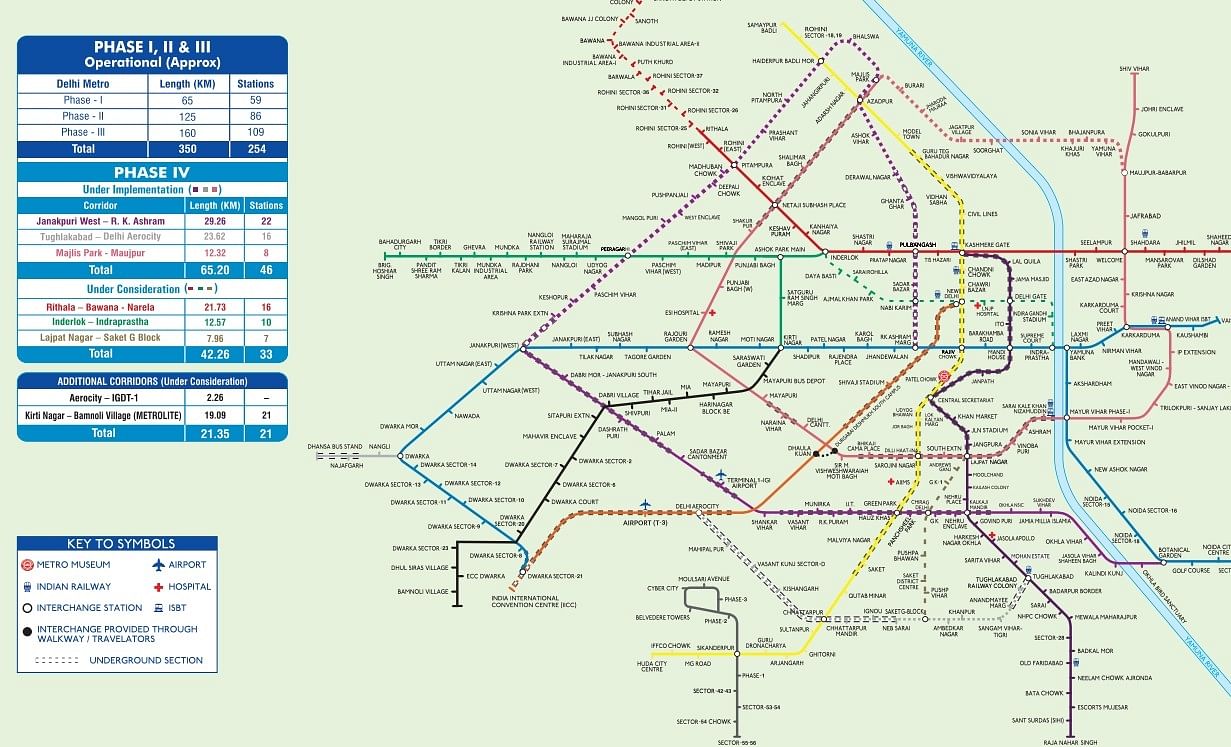 The 29-km-long Janakpuri West to RK Ashram Marg corridor is expected to be operational only by March 2026, a delay from its earlier September 2025 deadline, the DMRC said.
Similarly, the Majlis Park-Maujpur corridor of Phase IV is expected to be completed by March 2025, as against an initial deadline of November 2024.
Also, the Tughlakabad-Aerocity corridor is likely to be completed by March 2026, as against the previous deadline of September 2025.
Three In Pipeline
The Delhi government approved six metro corridors, measuring 103.9 km as part of Phase IV expansion in December 2018. These included Aerocity to Tughlakabad, Inderlok to Indraprastha, Lajpat Nagar to Saket G Block, Mukundpur to Maujpur, Janakpuri West to R K Ashram, and Rithala to Bawana and Narela.
Out of these, three corridors i.e., Aerocity to Tughlakabad, Majlis Park to Maujpur and Janakpuri West to RK Ashram – have been categorised as priority corridors and got approval of the Union Cabinet in March 2019.
The work on phase IV had begun in December 2019 with a ground-breaking ceremony, but it was hit after the outbreak of the COVID-19 pandemic in March 2020 in Delhi.
Providing last-mile connectivity to residents, the corridors proposed but not approved include Rithala – Narela (21.73 km); Inderlok – Indraprastha (12.57 km) and Lajpat Nagar – Saket G-Block (7.96 km).
Rolling Stock
Earlier in Dec 2022, the DMRC took a major step towards operationalizing its Phase IV corridors for passenger operations by signing the contract for procuring 312 Metro coaches (52 trains) with Alstom Transport India.
Out of the 312 coaches, DMRC will procure 234 standard gauge coaches for Majlis Park to Maujpur and Janakpuri West to R K Ashram Marg corridor. In addition, 78 standard gauge coaches will be procured for the Tughlakabad to Delhi Aerocity corridor.
All these trains will be compatible for driverless operations. These coaches will be manufactured in Alstom India's facility at SriCity near Chennai.
While the Janakpuri West – RK Ashram Marg extension will get 144 new coaches (24 trains), the Mukundpur-Maujpur extension of the Pink Line will get 90 new coaches (15 trains). The new silver line corridor from Aerocity to Tughlakabad will be provided with 78 new coaches (13 trains).