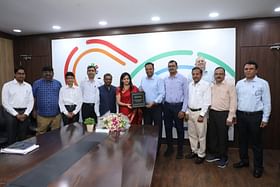 The Mumbai Metro Rail Corporation (MMRC) today (26 May) awarded the contract for operations and maintenance of Mumbai Metro Line 3 to the Delhi Metro Rail Corporation (DMRC).
The contract was awarded by Ashwini Bhide, managing director of the Mumbai Metro Rail Corporation to the DMRC official.
Earlier in April 2023, the DMRC had emerged as the lowest bidder to operate and maintain the 33.5-kilometre-long Line 3 of Mumbai Metro from Aarey to Cuffe Parade covering a total of 27 stations from the south of the western metropolis to the north.
The DMRC will manage daily operations, including that of the operations control centre or OCC, the Depot Control Centre or DCC, stations, train schedules, system management and passenger safety for a period of 10 years.
The scope of work also includes maintenance of metro assets, minor civil repairs of stations and buildings, hiring, training and timely organising competency of all staff, marketing and sales assistance.
The Delhi Metro, with its experience of operating and maintaining the largest metro system in the Indian subcontinent in the National Capital Region (NCR) will be able to extend the right support to the Mumbai Metro corridor, since the city of Mumbai is also highly populated with similar urban challenges like Delhi.
DMRC outbid Keolis, a reputed public transport operator from France with experience functioning in various cities across the world.
Mumbai's First Underground Metro
The Colaba-Bandra-SEEPZ Metro Line 3, also known as Aqua Line, will be the first underground metro line in Mumbai and also one of the longest underground continuous stretches in India.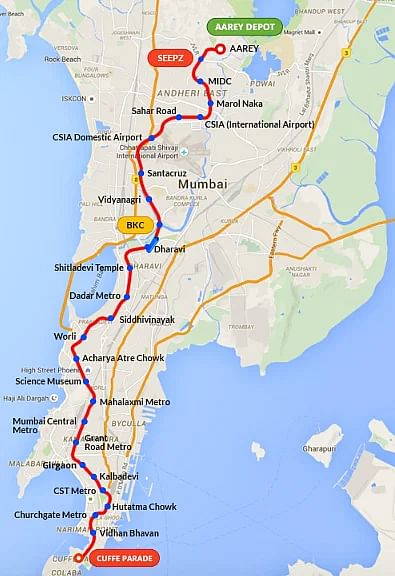 The Mumbai Metro Line 3 spans approximately 33.5 km, from Colaba (Cuffe Parade) in the extreme south of the city through Bandra, ending within the Special Electronics Export Processing Zone (SEEPZ) in the north-central.
The Aqua Line connects Mumbai's most congested regions and key financial hubs such as Nariman Point, Bandra-Kurla-Complex (BKC), Fort, Worli, Lower Parel and Goregaon.
The Mumbai Metro Line 3 is currently under construction with 87 per cent of the work finished and is expected to be operationalised in parts from the end of this year onwards.
The first phase of the project between BKC and SEEPZ is expected to be ready and open to the public by December this year.