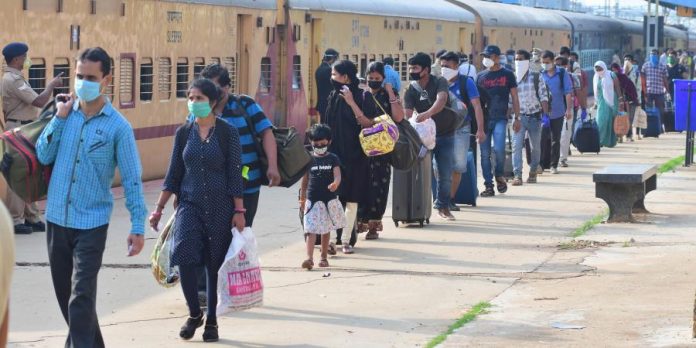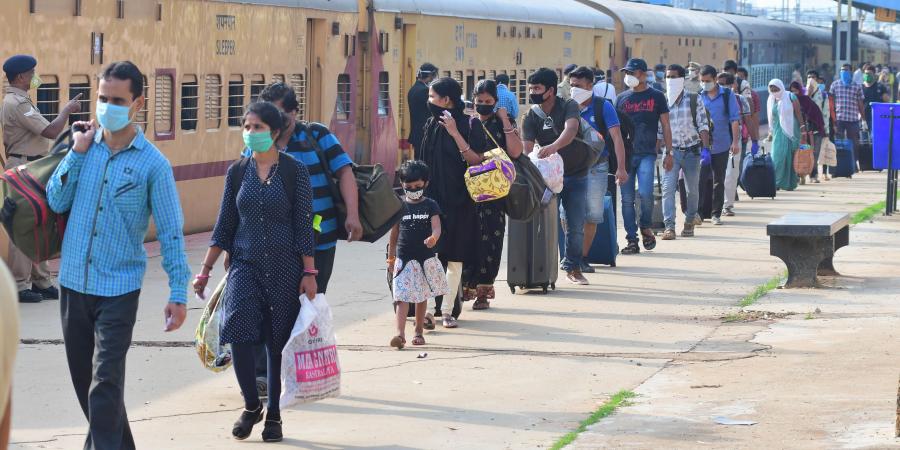 As the year draws to an end with the economy gradually coming back on the track, Indian Railways has proved again that it is the lifeline of the nation for its stellar role in maintaining the supply of essential items and ferrying migrant workers to their homes in the times of pandemic.
The year 2020 will be remembered for undertaking far-reaching reforms in the Railways which include merging of all cadres into one to do away with departmental rivalry, allowing private players to run passenger trains and corporatising all production units.
Year 2020 will also be known for the crucial role of the state-run transporter in leveraging its network to reach out in an unprecedented situation demonstrating agility amid the gloomy scenario.
Braving the COVID-19, railways pressed 4621 Shramik Specials carrying over 63 lakh migrants to their destinations while more than 5000 coaches were turned into isolation units for patients across the country.
The year will also be remembered for the tragic loss of over 700 front line railway staff due to coronavirus and about 30,000 of its employees being infected across the country.
Despite coronavirus, the freight loadings of the year almost matched the last year as the Railways transported goods over 834 million tons of goods by December.
Railways transported food grains, fertiliser, milk, medical equipment, cement, coal, PPE kits and medicines among others which were delivered to every corner of the country.
In order to facilitate quick movement of freight, Railways has introduced a policy on premium indent. As per this, if a customer places a request for premium indent, allotment of rakes will be given priority on two days —Monday and Friday.
Railway Finance Commissioner Naresh Salecha described the year 2020 as an unprecedented one and said the worst seems to be over.
Railways has earned Rs 782,78 cr by the end of November which is much less than the last year revenue collection.
Hopefully, the coming year would be better as far as earnings are concerned depending upon the situation, Salecha added.
It was the worst year for passenger service as for the first time since Independence, passenger-carrying trains came to a grinding halt in March-end.
Though limited passenger operation started in a gradual manner in the middle of the year, national transporters suffered a heavy loss on account of passenger revenue. It is expected that the Railways would lose about Rs 40,000 cr in passenger segment this year due to non-operation of large number of passenger trains till date.
Till now over 1000 trains are running for passengers besides suburban service operational in Kolkata, Chennai, Mumbai and Delhi regions.
Seizing opportunities in crisis, railways has undertaken a massive maintenance and repairing exercise for its assets including rail bridges and tracks.
According to railways, it was a much-needed exercise to strengthen the rail infrastructure for safety of train operation.
Since train operation is much less than the usual heavy rush of 10,000 passenger service with nearly 2 crore passengers travelling daily, no wonder the punctuality rate and safety record is higher with almost zero accidents.
Emphasising on the technology, Indian Railways is installing a new system to do away with the guard vans and the practice of deploying guards at the rear-end of goods trains to ensure all wagons remain intact when the train is in motion.
The technology-driven initiative envisages replacement of guard vans with a fully loaded wagon equipped with a sophisticated device called the End of Train Telemetry (EoTT) system.
The Rs 100 cr project envisages procurement of EoTT, a device that aims to establish communication between the locomotive driver and the last wagon of the train, to be equipped in all freight trains.
Railways has offered 109 routes to private players for operating 151 modern trains across the country.
According to experts, the private train operation, a first in Indian Railways, is expected to revolutionise the passenger operation with customers getting best service.
The year also witnessed major activities on the Dedicated Freight Corridor front as about 600 km long route becoming commissioned with trial runs being operational.
The electrification in railways has also speeded up with a lot of emphasis on phasing out diesel locomotives and replacing them with electric ones.
The year also witnessed a tough fight among various players including Chinese over manufacturing of Vande Bharat trains. Finally the Chinese company was disqualified and a domestic giant headed the race to bag the Rs 1800 cr contract.
The year saw the station redevelopment project which envisages Rs 50,000 crore worth of investment from private players, moving in the right direction with the Railways keen to push the scheme by making it attractive for the market.
For the first time, Railways is also planning for levying user fee ranging between Rs 10 and Rs 50 on over 100 stations including New Delhi and Chhatrapati Shivaji Terminus in Mumbai under station redevelopment plan.
Since the tender processes for the redevelopment of many stations is underway and the user fee would be part of the financial bidding document, the decision is crucial for expediting the project.
While the RFQ for redevelopment of CST and New Delhi are closing in the December 15 and 18 respectively, other stations including Tirupati, Chandigarh, Nagpur, Nellore, Puducherry, Dehradun and Gwalior are awaiting the user fee decision to enter the request for proposal stage.
Besides, many other stations across the country are also in the process of finalising bids for the proposed redevelopment.
According to railways, the aim is to levy an affordable minimum user fee on selected stations so that rail users do not feel the burden, said a senior Railway Ministry official involved with the station redevelopment project.
Though there are about 7000 stations operational in the Indian rail network, only 123 stations would be covered under the user fee plan in the first phase.
Though it would take some time for these rail premises to be redeveloped with world class amenities, the immediate effect will reflect in the prices of platform tickets at these shortlisted stations. A platform ticket is likely to cost Rs 20 instead of Rs 10, the current price.
Train tickets for these stations are also expected to cost more once the decision comes into effect. While the maximum Rs 50 is slated to be levied on AC first class, the minimum Rs 10 proposed to be added on platform tickets.
The year also saw the finalisation of Draft National Rail Plan 2020 which envisages three more dedicated freight corridors and more high speed corridors in the Indian rail network.
According to the Draft National Rail Plan, several cities across India will be connected via bullet trains.
One may get to travel from Delhi to Jammu and Delhi to Guwahati and also From Delhi to Varanasi on Indian Railways new high-speed railway networks at 300 kilometres per hour.
The year saw a lot of focus on parcel business with several initiatives have been introduced by the national transporter to attract more business towards it. Parcel business is very important as these services are used by small traders and businessmen.
Some of these initiatives include operating Kisan Rail trains to facilitate the movement of farm and agriculture produce, opening of all goods-sheds, granting of discount on the loading of 24 Parcel Vans in a single train, granting of discounts on sectors where Parcel Vans and Parcel trains are returning empty, starting Parcel train for export traffic to Bangladesh as well as Private Freight Terminals and Private Sidings for Parcel traffic.
Apart from these initiatives, the national transporter is also planning to develop dedicated Parcel Terminals in order to make Parcel consignments' handling easier for the parties. According to the Railway Ministry, Sangola (Central Railway zone), Coimbatore (Southern Railway zone), Kacheguda (South Central Railway zone) and Kankariya (Western Railway zone) have already been identified for development as a pilot project.Goyal appreciated Indian Railways' efforts especially regarding the running of Kisan Rail trains.
In 2020, Railways conducted the first trial run of Kolkata Metro train up to Dakshineswar along the city's North-South corridor.
According to railways, once ready, Kolkata Metro will enhance connectivity, benefit lakhs of daily commuters and enable devotees to comfortably visit Dakshineswar Kali Temple.
There have been several changes that Indian Railways is bringing in to make train travel better for the travellers.
In 2020, Railways has made some changes to the design for the side-lower berth, which has a middle gap that makes sleeping uncomfortable, and will now be modified. Two chairs are usually converted into a single sleeper berth on the side.