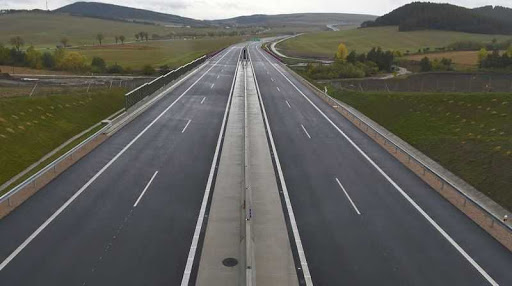 Finance Minister Nirmala Sitharaman on Saturday (1 February) announced that the launch of the much-delayed Chennai-Bengaluru expressway project while presenting the second Union Budget.
Despite being identified as a critical greenfield expressway alignment as it passes several economic modes and seen as a prerequisite for Chennai-Bengaluru Industrial Corridor (CBIC) , the expressway had been plagued by land acquisition delays especially in Tamil Nadu.
"Accelerated development of highways will be undertaken. This will include development of 2,500 km access-controlled highways, 9,000 km of economic corridor, 2,000 km of coastal and land-port roads and 2,000 km of strategic highways," FM Sitharaman said during the budget speech.
Sitharaman further said that the Delhi-Mumbai expressway would be completed by 2023 and added that work on the Chennai-Bengaluru would begin soon.
"The Delhi-Mumbai expressway and two other packages would be completed 2023. Chennai-Bengaluru expressway would also be started," she said.
The Chennai-Bengaluru expressway project is likely to be commence in the next 3 months with land acquisition almost complete except for some streches in Tamil Nadu.
The grrenfield Chennai-Bengaluru expressway will be a 262 km,six-lane, access-controlled expressway begins at Hoskote in Karnataka and ends at Outer Ring  Road near Chennai. cutting down the travel time between the two metropolises to around four hours from six to seven hours currently. It will pass Hoskote, Malur (Karnataka), V Kota, Palamaner (Andhra Pradesh), Gudiyatam, Arakkonam and Sri Perambadur (Tamil Nadu).
Originating at Hoskote, the Bengaluru-Chennai expressway will cover a length of 75.64 km within Karnataka, 88.30 km in Andhra Pradesh and 98.32 km in Tamil Nadu passing through Tiruvallur, Kancheepuram and Vellore districts in Tamil Nadu before ending at Sriperumbudur.
There are two existing routes which connect Chennai and Bengaluru, one is via Hoskote, Kolar, Chittoor, Ranipet and Kancheepuram, which is 335 km long and a second route via the Electronic City and Hosur which runs to a distance of 372 km. The proposed alignment of the Bengaluru-Chennai Expressway will lie between these two stretches.
The expressway project will be executed in five phases: Bengaluru to Kolar; Kolar to Palamaner; Palamaner to Chittoor; Chittoor to Kanchipuram and Kanchipuram to Sriperumbudur. The two proposed elevated expressways will provide the last mile connectivity to Chennai.
The project, which is estimated to cost around Rs.17900 crores, requires the acquisition of 2,650 hectares of land. Acquisition of land is in the final stages. By December 2018, the Centre had already spent Rs 1,370 crore towards pre-construction activities.
This will ease the flow of traffic between Bengaluru and Chennai on existing roads. At least 9,500 passenger car units travel between t he two cities every day.
The expressway will also cut down the distance between the two cities by around 80 km. The current distance between Bengaluru and Chennai through Krishnagiri in Tamil Nadu is around 345 km.
The expressway project runs through Karnataka, Andhra Pradesh and Tamil Nadu The project has been plagued by considerable delays in land acquisition in Tamil Nadu. Karnataka is comparatively ahead in finishing the requirement for land acquisition.
Before executing all expressway projects, NHAI is insisting on the completion of at least 80 per cent land acquisition. The project involves acquisition of 2,600 hectares land, of which about 800 hectares are in Karnataka.
Karnataka and Andhra Pradesh have completed the land acquisition process while it has reached the final stages in Tamil Nadu. Tamil Nadu is set to complete the land acquisition anytime. Once the acquisition process is over, NHAI is likely to call for tenders to the prospective concessionaire under the hybrid annuity mode for all the phases together.
The construction of the expresway will boost the plans to develop an mega industiral zone  Chennai-Bengaluru Industrial Corridor(CBIC).
Japan International Co-operation Agency (JICA) has prepared a comprehensive plan for selected industrial areas along the Chennai-Bengaluru Industrial Corridor (CBIC). The corridor is planned along Chennai, Sriperumbudur, Ponnapanthangal, Ranipet, Suburbans of Vellore, Chittoor, Bangarupalem, Palamaner, Bangarpet, Hoskote and Bangalore.
CBIC, which is being designed on the lines of Delhi-Mumbai Industrial Corridor, covers Tamil Nadu, Karnataka and Andhra Pradesh. World-class infrastructure for industry is planned along these corridors.The long-term vision of the Chennai-Bengaluru Industrial Corridor (CBIC) is to develop itself as a globally competitive manufacturing hub that promotes sustainable development by creating at least 22 million additional jobs in the next 20 years.The project will drive growth of both large industries and SMEs within the corridor and boost exports from the region by focusing on sectors like electronics, automobile, textiles and food processing.