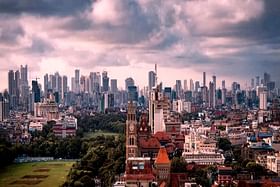 CBRE, a real estate consultancy firm, recently carried out an assessment of the tall buildings and vertical growth ecosystem in the country.
With more than 100 tall buildings, Mumbai stands as a hub of high-rise properties and ranks 17th worldwide and 14th in Asia.
India has witnessed a remarkable surge in population, accompanied by a steady upward trend in urbanisation.
As cities become increasingly populated, the demand for space has also escalated rapidly. In response to the scarcity of land, tall buildings emerged as a solution as part of development for various Indian cities, optimising limited land resources.
Presently, approximately 250 tall buildings have been completed or are in progress across India.
The Council on Tall Buildings and Urban Habitat (CTBUH), a Chicago-based non-profit, defines a 'tall building' as a structure higher than 150 m. It further defines buildings above 300 m as 'super tall' and above 600 m as 'mega tall'.
While India's first skyscraper was built way back in 1961, it was only after 2000 that the construction of tall buildings picked up pace.
CBRE, a real estate consultancy firm, recently carried out a one-of-its-kind assessment of the tall buildings and vertical growth ecosystem in the country.
The report "Sky is the limit – Rise of tall buildings in India" was presented by Gurjot Bhatia, managing director, project management, India, CBRE.
Mumbai Leads With Its Vertically Rising Skyline
Mumbai, with a staggering population density of approximately 21,000 people per square kilometre, stands as the hub of tall buildings in India. Given the city's constrained land availability, the city will likely continue to lead vertical construction in the country.
The city dominates the Indian skyline with 77 per cent share of tall buildings and is 70th in the index of global financial centres, according to the report by CBRE.
With more than 100 tall buildings, Mumbai ranks 17th worldwide and 14th in Asia.
The report also mapped the distribution of tall buildings in Mumbai, highlighting the decentralised growth pattern that spurred the development of real estate micro-markets such as Malad, Goregaon, Powai, Vikhroli, and Kanjurmarg in the eastern and western suburbs.
Despite this expansion, Central and South Mumbai have retained their status as the focal points for high-rise clusters, mainly because of the soaring land prices and the strong demand driven by their premium locations.
Mumbai is followed by Hyderabad, where city planners are showing a strong inclination towards vertical growth.
Kolkata secures the third position, with Noida coming in fourth.
Gurugram, Bengaluru, and Chennai closely follow, each contributing a one per cent share, as per the assessment.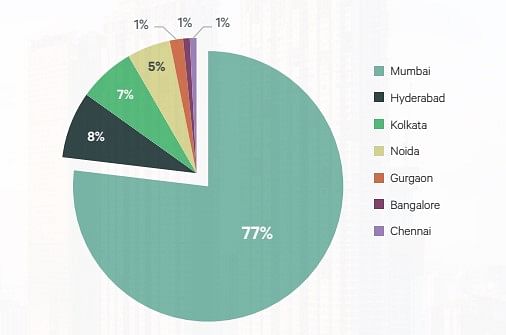 From a sectoral perspective, residential developments dominate the tall building landscape in the country.
The report said nearly 89 per cent of the completed tall buildings in India were residential, while only 6 per cent were for office.
About 4 per cent were mixed-use structures while hotels made up only one per cent of them.
The report indicates that construction-completion of tall buildings increased from over 10 in 2016 to more than 70 by the first half of 2023 — including around 60 buildings above 150 m and nearly 10 above 200 m in height.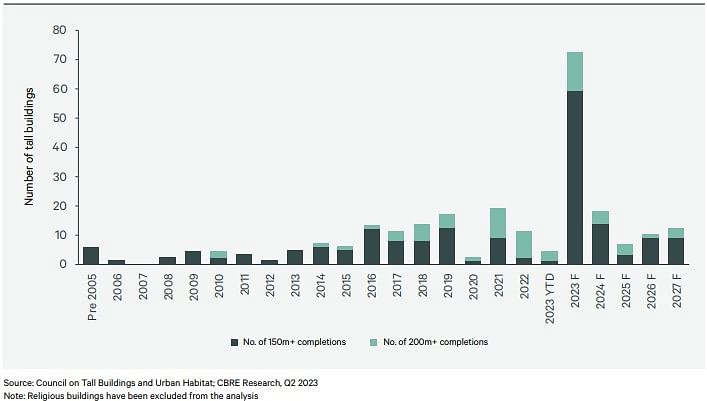 Recognising Vertical Growth For Indian Cities
Anshuman Magazine, chairman and CEO-India, South-East Asia, Middle East and Africa, CBRE, said, "The current trend in major Indian cities allows for outward expansion. However, it is important to recognise that this approach may not be a sustainable solution in the long term."
"As a result, it becomes imperative for developers, architects, planners and policymakers to embrace a vertical growth strategy. Mumbai has already demonstrated the success of such an approach in some locations, but other cities still heavily rely on horizontal development."
He added, "Hyderabad has been in the past few years eyeing vertical growth with developers trying to capitalise on favourable Floor Space Index (FSI) regulations in Telangana."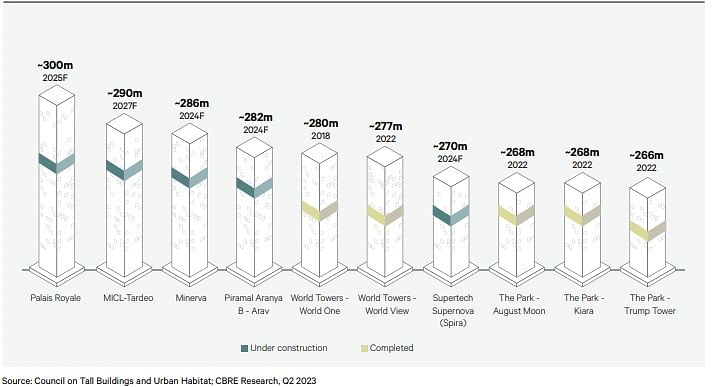 Urban sprawl poses various challenges, including limited institutional capacities and fragmented government regulations.
As more individuals migrate to cities, these areas continue to expand horizontally, resulting in increasing land use changes and adding to an increase in carbon emissions.
Vertical growth presents an opportunity to mitigate these emissions by creating compact environments equipped with efficient mobility features. Additionally, it helps easing some of the supply constraints that can come with significant population growth and sprawl.
By constructing vertically, more space can be made available in city centres, where elevated offices and residences enable the ground floors and basements to be repurposed for shops and recreational amenities.
Developers can accommodate a larger number of residents and businesses without requiring a larger land or floor area.
Additionally, open spaces between clusters of high-rise buildings can be transformed into parks and public areas.
In addition to their appeal to occupants, tall buildings also attract investors seeking high-net return properties, due to the potential for diversified tenant mixes.