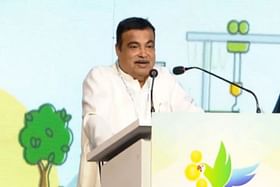 Union Road Transport and Highways Minister Nitin Gadkari has said there are currently 70 projects underway, totaling 2,014 km and costing Rs 33,540 crore in Andhra Pradesh.
Addressing Andhra Pradesh's Global Investment Summit 2023 at Visakhapatnam, he said efforts are being made to establish five green highways and two expressways at a total cost of Rs 32,430 crore.
Gadkari said during 2022-23, work costing Rs 15,400 crore has been awarded for a length of 777 km across 27 projects.
He said additionally, two Multimodal Logistics Parks (MMLPs) have been sanctioned in Visakhapatnam and Anantapur at a cost of  Rs 1,797 crore. These MMLPs will serve as a key hub for centralising freight cargo consolidation in the region, he added.
Gadkari said over the past eight and half years (2014-23) of Modi Government there has been a significant increase in the length of NHs (National Highways) in Andhra Pradesh.
The Minister said the length has expanded from 4,193 km to 8,744 km. He approved the 6-lane Vizag Port Highway on NH 16 near Bhogapuram with a length of 55 km costing 6,300 crore.
Gadkari further said in line with Prime Minister Narendra Modi's commitment to promoting sustainable practices, we are focused on converting our farmers to Urjadata while continuing to support them as Annadata.
He said we also advocate for swadeshi manufacturing, which prioritizes safety, recyclability, and sustainability.
He said our goal is to create opportunities for green energy and a green economy in the mobility sector.
Andhra Pradesh Chief Minister YS Jagan Mohan Reddy, Finance Minister Buggana Rajendranath Reddy, Minister for Industry, Infrastructure & Investment Gudivada Amarnath and other senior officials were also present on the occasion.