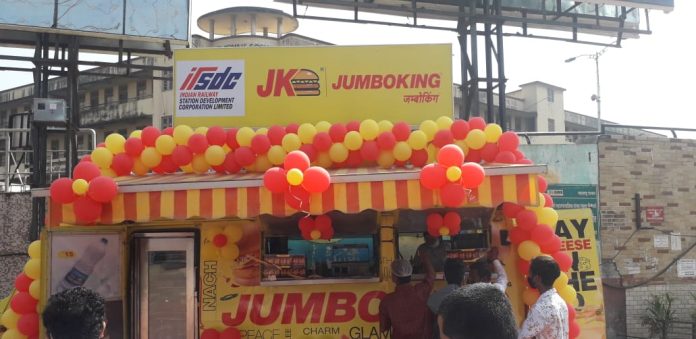 Offering varied choices of menu to suit all taste buds, the first ever food truck of Indian Railways has been launched at Pune railway station.
Vada Pav fans in Pune can now grab a quick bite without leaving the station as the Jumbo King, one of India's most trusted QSR brands, setting up the food truck in rail premises with Indian Railways Stations Development Corporation (IRSDC), taking over the task of facility management at Pune station.
Besides, passengers can choose from the best of combo deals, burgers, fries, coke, wraps and thick shakes. Also, Jumbo King super saver combos and Jumbo King loaded sides are a must have.
Other passenger amenities which are operational at the Pune station are Retiring rooms, Dormitory, Waiting halls, Cloakroom, Health kiosk, Bookstalls, ATM, Pay & Use toilets, SBI credit card kiosk, Pay & park, Water vending machine etc.
"We have launched some of the firsts in Indian Railways like 'Air to Water kiosk at Secunderabad railway station, Fit India Squat kiosk' & 'Digital Cloak Room' at Anand Vihar station in New Delhi," said Sanjeev Lohia, Managing Director and CEO of IRSDC.
IRSDC has been at the forefront of transforming the landscape of Indian Railways.
IRSDC has already undertaken many initiatives and services for the passengers which have been launched for the first time over Indian Railways. Going further, IRSDC will be an integral force in launching many more unique initiatives and services for improved satisfaction of the passengers.
As on date, 14 food stalls are currently operating at the Pune railway station.
IRSDC MD further said, "we are committed to work for passenger satisfaction and offer them the best of amenities at affordable prices. We are also working steadfastly towards station re/development – building rail malls across the country. With the support of Railway Ministry, we shall achieve our mission in near future."
IRSDC envisages developing self-sustainable railway stations in the country with high standards of safety, comfort, user friendly passenger amenities; value added services and efficiency by adopting the best technological practices, sound financial strategy and optimum utilization of resources.