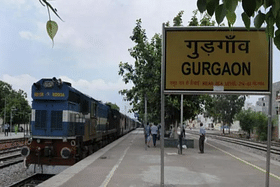 The railway station in the Millennium city, known as Gurugram is all set to get a futuristic makeover to enhance its capacity multifold to handle more trains and passengers.
The Rail Land Development Authority (RLDA) has invited a request for proposal (RFP) for the "major upgrade" of the Gurgaon station under Engineering, Procurement and Construction (EPC) model.
The redevelopment project is scheduled to be completed within 15 months at an estimated cost of Rs 215 Crore.
The scope of work shall broadly cover survey, investigations, design and major upgradation and development of Railway Station. The upgraded station will have state-of-the-art lobbies, food court and paid lounge, apart from office and retail spaces.
Ved Parkash Dudeja, vice-chairman, RLDA, said, "The city is the most favoured destination for residential, retail and commercial development in Delhi-NCR. The station is being upgraded to support the city's growth."
Light House Project
Further, the upgradation project of Gurgaon Railway station is a "light-house" project based on modular concept in which which pre-engineered and prefabricated components will be used to reduce the time taken to complete the project significantly.
The established technique, then, will be replicated on all the station development works to be carried out on the Indian Railway Network.
This is second Light-house project undertaken by RLDA. The RLDA has already awarded the tenders for redevelopment of Chandigarh Railway station to Delhi-based firm Ahluwalia Contracts (India) Ltd.
The Chandigarh station is also being upgraded on EPC model at an estimated cost of Rs 462 crores. The redevelopment work is expected to be completed within 15 months. The station upgradation is a lighthouse project and will be upgraded in modular concept.