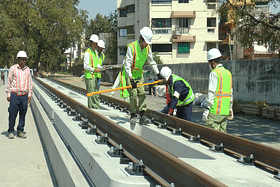 Japanese experts will train 1,000 Indian engineers before they begin working on Mumbai Ahmedabad High Speed Rail corridor.
The Mumbai-Ahmedabad bullet train will use the ballast-less Slab Track system, like the Japanese Shinkansen high speed railways, commonly known as the J Slab track system.
High levels of skill are required by technicians to lay the unique Japanese track system. The National High Speed Rail Corporation Limited (NHSRCL) spokesperson emphasised its significance as the most crucial part of the High-Speed Rail (HSR) system, requiring highly accurate laying, reports The Hindu.
Fifteen courses will cover various aspects of track work, such as training for Site Managers, installation of Slab Track, Rail welding, RC Track Bed, and Turnout. Enclosed Arc welding of rails, Reference Pin survey, and CAM installation will also be included.
"Up to 20 Japanese experts will impart intensive training to the Indian engineers, supervisors and technicians and certify their skills. This will also help in 'Transfer of Technology' of Japanese HSR track system," said Rajendra Prasad, MD, NHSRCL.
Surat Depot has a specialised training facility with three trail lines aimed at preparing for the 237 km work between Vapi and Vadodara.
Only certified engineers will work on track construction at the site, according to the NHSRCL spokesperson.
JARTS, a non-profit organisation in Japan, nominated by JICA, which is the funding agency of MAHSR project will provide the project training.