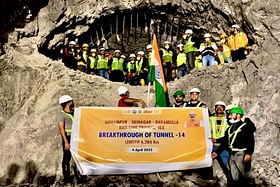 The Udhampur-Srinagar-Baramulla Rail link (USBRL) project achieved a major milestone last week by breaking through T-14 tunnel between Sangaldan and Sawalkote stations on the Katra-Banihal section.
The breakthrough ceremony on tunnel was done by a woman employee, Indu Paul Kaur of Awantipora in Kashmir, an engineer in IRCON.
T-14 is a tunnel of length 6.284 km with two tubes — the main tunnel and the escape tunnel. The ends of the tunnel are located in two districts of Reasi and Ramban.
The tunnel has been constructed using NATM (New Austrian Tunneling Method) methodology, which is an observational and sequential construction method, said Shobhan Chaudhuri, general manager, Northern Railways.
The south portal of tunnel T-14 is located in Sawalkote village in Arnas tehsil, at a distance of 100 km from the district headquarters of Reasi, at an altitude of 1,070 m, while the north portal of the tunnel is located in Ind village of Gool tehsil in Ramban, at an altitude of 1,150 m, said a Northern Railway official.
The construction of the tunnel has been a challenge as both the tunnel portals were located in remotest villages with no road connectivity prior to the start of tunnel construction.
One-Of-Its Kind
The 272-km-long railway line from Udhampur to Baramulla joining the Kashmir valley with the Indian Railways network under Udhampur-Srinagar-Baramulla Rail link (USBRL) project was sanctioned in 1994-95.
One of the most challenging works undertaken post-independence by Indian Railways, the project aims to provide an alternative and a reliable transportation system to Jammu and Kashmir.
In view of the importance of the USBRL project in providing seamless and hassle-free connectivity, it was declared as a "National Project" in 2002.
Out of the total length of 272 km, 161-km has already been commissioned and operationalized, across three sections — Udhampur-Katra (25 km), Banihal-Quazigund (18 km) and Quazigund-Baramulla section (118 km).
Katra-Banihal Section
The Katra-Banihal section is the most crucial section of the project as it involves 164 km tunneling across 27 number of tunnels — the maximum in the project.
With 87 per cent of the total length (97 km out of 111 km) in tunnels, this section presents an engineering challenge in the highly rugged and mountainous terrain with one of the most difficult and complex Himalayan geology.
The Katra-Banihal line is expected to be operationalised by January 2024.