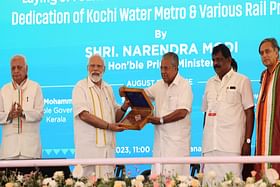 Prime Minister Narendra Modi today laid the foundation stone for the redevelopment of three major Railway stations, Thiruvananthapuram, Varkala Sivagiri and Kozhikode in Kerala.
The Southern Railway has taken up the redevelopment of these station so as to offer modern infrastructure and airport-like facilities for the passengers and will transform the rail travel experience.
Thiruvananthapuram Central Railway Station
Thiruvananthapuram, at the southernmost tip of Indian Railway network, is the most popular gateway to many of the tourist destinations of Kerala and a small portion of Tamil Nadu.
From a tourism perspective, the station serves eight out of the fourteen districts of Kerala besides the famous Cape Comorin falling in Tamil Nadu.
The redevelopment of the largest railway station in Kerala, the Thiruvananthapuram Central Railway Station, at a cost of Rs 495 crore, will act as a multi-modal connectivity hub.
As per the project's concept plan, the station ought to be developed to international standards, as a multi-modal transport hub having disabled-friendly amenities. The structures must be eco-friendly and must make maximum use of light and ventilation.
The aesthetically designed station will include a spacious concourse and Divyangjan-friendly amenities and will provide accessibility to iconic tourist destinations.
Kozhikode Railway Station
The redevelopment of Kozhikode Railway Station at a cost of Rs 475 crore will be serving over 60,000 passengers daily.
This redeveloped Kozhikode Railway Station will offer convenience to passengers with disabilities by providing facilities that are Divyangjan-friendly, such as escalators, lifts, and stairways.
Varkala Sivagiri Railway Station
Located near Varkala beach and the Varkala Municipal Bus station, the station serves the people of Thiruvananthapuram and Kollam districts of Kerala. The station records a footfall of approximately 9,480 on a daily average.
The redeveloped Varkala Sivagiri Railway Station, at a cost of Rs 170 crore will provide easy connectivity in the region.
As per the plan, the redeveloped station will be aesthetically pleasing with modern amenities for passengers, designated parking areas, separate arrival and departure corridor.