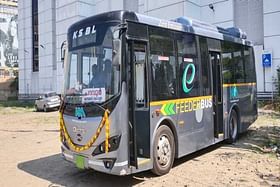 Drivers are undergoing technical training on the app and trial runs are currently on.
Kochi Metro Rail Limited (KMRL) is set to launch an app that integrates auto-rickshaws and buses within the metro feeder network. This will provide first- and last-mile connectivity to and from metro stations, according to KMRL.
The app aims to boost the feeder network, which has yet to gain traction six years after the metro's launch.
The plan is to increase daily footfall in the metro by integrating it with the feeder network, aiming for over 100,000 commuters.
Presently, a handful of electric buses and Kerala State Road Transport Corporation (KSRTC) buses run feeder trips, alongside autos.
To address this gap, the app plans to introduce a fleet of GPS-enabled autos that adhere to government-specified fares. This service is expected to bolster the feeder network and improve last-mile connectivity, benefiting commuters accessing towns located in the suburbs.
The metro agency hired the firm behind AuSa, a ride-hiring app for EJADCS, to create an app for its feeder network.
Electric and other auto vehicles have been deployed to operate feeder services from metro stations and Water Metro terminals for over a month now.
Drivers are undergoing technical training on the app and trial runs are currently ongoing. Passengers will be able to conveniently scan a QR code and travel in the designated autos as part of the feeder network.
This system benefits commuters as they are charged only the government-fixed fare, while the drivers are guaranteed trips. It's a beneficial situation for all parties involved.
Commuters using the ride-hailing app will receive an online summary and bill of their trip, allowing them to track the car and driver and retrieve any lost items.
For trips that go beyond the Kochi Corporation area, a fee approximately 1.5 times higher than the approved fare will be levied.
Additionally, the service charge for using the app will be less than 3 per cent, and there will be no surge fees, which is a definite advantage compared to other ride-hailing apps, according to sources.