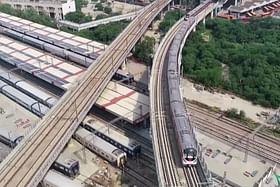 The preparation of the detailed project report (DPR) for the metro line between Greater Noida and New Delhi, which is being undertaken by the Delhi Metro Rail Corporation (DMRC), is facing delays as the DMRC has sought additional time to complete the survey work.
The Yamuna Expressway Industrial Development Authority (YEIDA) said the DPR is now expected to be ready by June 2023, as per a Hindustan Times report.
"The DMRC has informed us that it will take some more time to complete the survey work and hence it would submit the DPR only by end-June. The DMRC needs to carry out two more surveys to complete the DPR," said Arun Vir Singh, chief executive officer, YEIDA.
The planned metro connectivity will consist of two phases — the first phase being a 36.36 km link between New Delhi Station and Greater Noida's Knowledge Park-2, and the second phase being a 35.64 km link between Knowledge Park-2 and Jewar.
The DMRC and YEIDA signed a memorandum of understanding (MoU) in December 2022, for the preparation of the full project report for the development of the metro rail link.
According to officials, the 35.64 km link between Jewar and Knowledge Park-2 has already received approval of its DPR from the Yamuna authority in August 2022, and is now awaiting approval from the Uttar Pradesh government.
Singh added, "Once the DPR of the Metro link between Knowledge Park-2 and New Delhi is ready, we will send it to the Uttar Pradesh government and then the central government for requisite approvals before commencing work at the site."
The Delhi Metro is yet to conduct the "original destination survey" and "geo-technology survey" in order to determine the most appropriate locations for the final stations, which will guide the placement of the structures.
The preparation of the DPR will follow the completion of these surveys.
In January 2023, the DMRC had called for bids for the topographical survey and geotechnical survey works, with a 45-day deadline, in order to assist in the preparation of the DPR, as per earlier reports.
According to Singh, the approval of both DPRs will initiate work on a 72-km dedicated metro corridor that links Noida Airport and Indira Gandhi International (IGI) Airport.
The Noida airport in Jewar is expected to get functional by end-2024, said officials.
Upon completion of the two phases, this metro line will have an estimated 13 stations between the Noida Airport and New Delhi Railway Station.
From New Delhi Railway Station, there is already a connecting link to the Airport Express for IGI Airport in Delhi.
This proposed rail connection can be seen as part of the Uttar Pradesh government's plan to provide last-mile metro connectivity to the Noida International Airport.