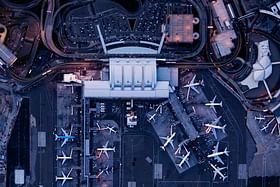 "Once the project is complete with all the five runaways and the MRO (maintenance, repair and overhaul) facility, the total passenger capacity is expected to be 225 million, and this "is going to be the biggest airport in Asia", Arun Vir Singh, CEO of Noida International Airport Limited (NIAL), recently stated in an interview with Moneycontrol.
During the recent state budget presentation for fiscal year 2023-2024, the Uttar Pradesh Cabinet Minister, Suresh Khanna announced increased number of runways for the Noida airport being developed in Jewar. The airport will now have five runways instead of two (read more on this).
Construction work for the airport started in June 2021. It was awarded to Tata Projects by Zurich International Airport AG, which is the concessionaire for the proposed project.
The first phase of development is expected to be completed by 30 September, 2023.
The CEO further added, "It is a 100 per cent FDI project and construction is to be completed in 1,095 days, meaning three years. So, it is well within the timeline. We are monitoring it on a daily basis".
"We are expecting five million passengers on day one without a single spillover from the Indira Gandhi International airport (IGI) in Delhi. All international, domestic and cargo flights will start from this airport right from day one".
Regarding the recent announcement on developing the airport as an international transit hub (read more on this), he said, "Zurich International Airport AG is in talks with different airlines, like Tata Airlines, Indigo, SpiceJet and others, and everybody wants to make India a transit hub. This is an opportunity, especially since aviation companies are buying more aircraft".
"At present, we have only 600-odd aircraft in the country. Now we are going to have more than 1,200 additional aircraft, which are going to be purchased by SpiceJet, Indigo and Air India and Vistara. In that scenario, there is a huge possibility that the transit hub can be made here in Jewar and all the Pacific flights can be started from here".
During the UP Global Investors Summit (GIS) 2023, Tata Sons Chairman, N Chandrasekaran announced that the Tata Group was looking at building an integrated multi-modal cargo hub (MMCH) through Air India SATS (AISATS).
On the airport being planned as a major cargo hub, NIAL CEO added, "As of now, the IGI airport is being fed by Noida. As much as 55 per cent of the total cargo is from here".
"When we say air cargo, it means the software, electronics, mobile phones, SIM cards, and garments. The main IGI cargo is going from Noida and Ghaziabad, so that will automatically shift to Jewar airport and that will help develop the airport into a big cargo hub".
Further, as part of the second phase, NIAL is planning a dedicated MRO facility. There are small MRO facilities but the country is yet to have a massive facility on the lines of Singapore or Colombo.
He explained, "For that, the government contribution is around Rs 800 crore, released in the UP budget. The government has 37.5 per cent share in this project, while the Noida Authority has a 37.5 percent equity and the Yamuna Authority and Greater Noida Authority has 12.5 per cent each. Accordingly, the government has released its share".
As of now, for major overhauling or repairing work, aircrafts are sent to Seattle or France.
He added, "That is the reason why our country and the state government is keen to have a full-fledged MRO in Jewar. That is why we are acquiring 1,365 hectares of land for a runway and an MRO facility. We are talking to big companies like Airbus, Boeing and others for establishing an MRO in India".
The Chief further mentioned that the airport would be developed in four phases and each phase would have sub-phases.
As part of the third phase, NIAL is expected to acquire another 2,085 hectares. "In addition, another 1,200 hectares will be acquired for the aviation hub. So, a total of 6,200 hectares are expected to be part of this aviation hub and airport, which will be developed in phases".