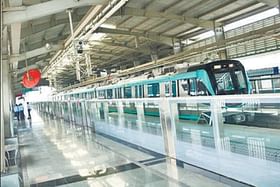 The Noida-Greater Noida Metro has established its all-time highest single-day ridership of 56,168 on 16 January.
This was announced by the Noida Metro Rail Corporation (NMRC) which operates the Metro service connecting the twin cities of Noida and Greater Noida in Gautam Buddha Nagar of Uttar Pradesh.
The record figures surpassed the previous single-day highest ridership of 52,696 on 30 November 2022.
Before that the record was 50,231 on 17 October; 48,852 on 14 October and 48,396 on 26 September in 2022. A higher daily ridership is essential to improve both fare and non-fare-based revenue options.
Aqua Line 
The two industrial bodies – Noida and Greater Noida are currently connected by 29.707-km-long metro line, commonly known as Aqua Line. It comprises of 21 stations starting from Sector 51 Station in Noida and ends up at Delta Depot Station in Greater Noida.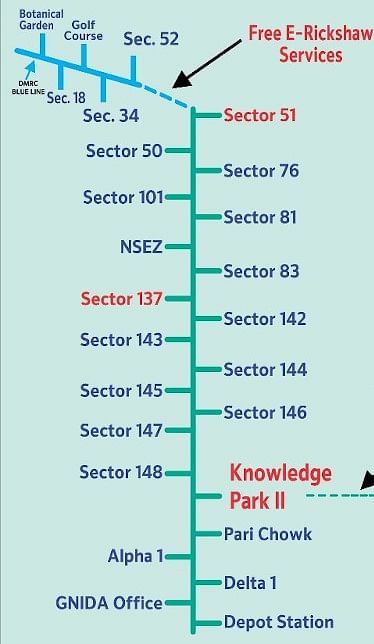 NMRC has been working proactively since the commencement of its operations on 26th January 2019 to increase ridership on its network.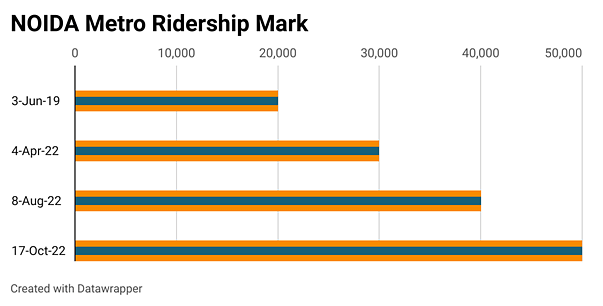 NMRC touched the cumulative ridership figure of 2 crore in just 3 years and 8 Months despite the fact that metro operations were suspended during the year 2020-2021 for almost 227 days due to CoVID restrictions.
However, a soaring concern has been the lack of connectivity between the Aqua line of NMRC and the Blue Line of Delhi Metro. The distance between Aqua Line's Sector 52 station and Blue Line's Sector 51 station is just 300 meters, but commuters need to exit one system before entering another and again go through security checks.