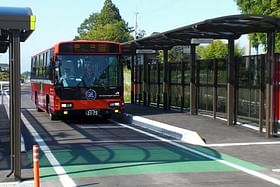 The Yamuna Expressway Industrial Development Authority (YEIDA) has announced plans to establish a bus rapid transit (BRT) system.
This system will facilitate journeys from the newly-developed Noida airport in Jewar to cities located within the National Capital Region (NCR).
On Monday, the authority opened the bids and finalised RITES Limited for the job, reports Hindustan Times.
YEIDA received proposals from four different firms — including Aarvee Associates Architects Engineers and Consultants, RITES Limited, SA Infrastructure Consultants, and Systra MVA Consulting (India).
These companies submitted their proposals in response to a request for proposal issued in March 2023.
The consultant will undertake an extensive study of the area and provide expert guidance for the successful implementation of this project.
Arun Vir Singh, CEO, YEIDA stated, "Our objective is to provide multimodal connectivity from Noida airport in Jewar to the rest of NCR. In line with this, we have decided to build a high-speed Metro corridor from Noida airport to Delhi's Indira Gandhi International airport, a normal Metro corridor from Jewar to Delhi, and a Pod Taxi service from Jewar to Greater Noida for last mile connectivity."
The authority is working towards providing a world-class dedicated corridor for fast and efficient commute in the region around the airport.
As part of this target, the authority has decided to implement a BRT system. They are also developing dedicated lanes for motorcycles, pedestrians, cyclists, busways, and trams.
YEIDA plans to build the BRT system between Yamuna Expressway's service road and the sector road, said officials.
"Currently, we have adequate land between the Yamuna Expressway and the sector road for developing the BRT system. But the exact width and length or the vehicles that will use it will be decided once the consultant submits its report in the next two months," said Singh.
Following the submission of the consultant's report, the officials will discuss the project with the government.
The Noida International Airport in Jewar is being developed by Zurich International AG in Gautam Buddha Nagar district in Uttar Pradesh.
The Uttar Pradesh government and YEIDA are responsible for laying the infrastructure needed to achieve multimodal connectivity with the airport operations.