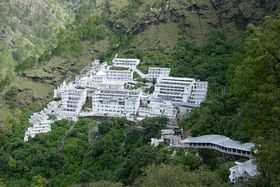 The arduous journey to Mata Vaishno Devi shrine in Jammu and Kashmir may be history soon as the government has finally started the process to build a Rs 250-crore worth ropeway project to the holy shrine.
Nestled in the Trikuta mountains at an altitude of 5,200 feet, the Vaishno Devi Temple is located in Reasi district. Over 91 lakh pilgrims had visited the holy temple in 2022, most of them undertaking a trek of nearly 12 km from the base camp at Katra.
Rail India Technical and Economic Service Limited (RITES), a Railway PSU invited bids on 15 February to build the nearly 2.4-km ropeway which could reduce the journey time to just six minutes, thereby saving on time and efforts of many visitors.
Specifications
The project will start from Tarakote near the Katra base camp and end at Sanjhichhat, which is half kilometre short of the holy shrine.
The ropeway will have the Gondola cable car system with a capacity of 1,500 persons per hour (PPH).
To be executed, operated and maintained on BOOT (build, own, operate, transfer) basis, the work will have to be completed in 36 months after award of contract. The concession period will be 33 years (inclusive of construction) extendable for a further period of 10 years.
Existing Route
So far, the only way to reach the Vaishno Devi temple is through a steep 12-km-long trek along Katra-Adhkuwari-Bhawan route or taking a helicopter ride from Katra to Sanjhichhat.

However, walking for 12 km can be arduous and tiring for those not used to it. Also, many pilgrims who are overweight or otherwise not fit to walk for long and those who have breathing problems or some other ailments or are old or physically challenged need the services of ponies and palkies.
The ropeway could offer a much cheaper and far less arduous journey for pilgrims to the temple.
Prime Minister Narendra Modi in May 2018 had inaugurated Tarakote Marg, an alternate seven kilometre track to the temple which is less steep and with easier gradient.
Need For Ropeway
The bid documents mention a host of reasons behind establishing the ropeway:
The 12 km journey on foot up to the bhawan (temple) is tiresome due to level difference of 5,200 ft. The time taking journey on steep slope in normal scenario may get covered just in six minutes by ropeway.
The ropeway would not only save the ecology of the area but also prove to be a major attraction for the tourists as visitors would be able to get an aerial view of entire picturesque valley from the ropeway and may lead to further increase in tourist footfall.
During hot summer, pilgrims avoid daytime travel. With the ropeway, the tourist can also visit in daytime comfortably.
There will be less pollution on the trek due to less garbage and less waste by mull/pony/horse.
Due to less travel time, the stay at bhawan will be reduced, hence reducing the overcrowding and chance of any unfortunate accidents at bhawan, particularly during peak season.