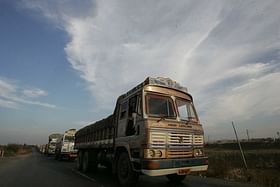 Union Road Transport Minister Nitin Gadkari said on Monday (19 June) that he has approved a proposal to make it mandatory for truck manufacturers to provide AC cabins for drivers.
According to an estimate, the additional expenditure for providing AC cabins in trucks would cost in the range of Rs 10,000 to Rs 20,000 per truck.
The new feature will be mandatory from 2025, officials said, citing that the industry needs around one-and-a-half years for introducing this provision. Currently, high end trucks manufactured by companies such as Volvo and Scania have AC cabins for drivers.
Speaking at an event, Gadkari said, "In our country, some drivers are behind wheels for 12 or 14 hours whereas in other countries, there is a restriction on the number of hours for bus and truck drivers to be on duty. Our drivers operate vehicles in temperatures of 43-47 degree temperature and we must imagine the condition of drivers.
"I was keen to introduce the AC cabin after I became minister. But some people opposed it saying the cost will go up. Today (Monday), I have signed the file that all truck cabins will be AC cabins."
The Minister said the condition of drivers needs attention. It is being learnt that when the Road Transport Ministry had proposed for this mandatory provision in 2016, the truck manufacturers had opposed it citing several reasons, including the cost going up.
The industry had even demanded that the provision of AC cabins should be optional. Some of them had even claimed that the drivers may feel sleepy in AC cabins
The Ministry had the same notion about bus drivers and the drivers' cabins were non-AC for years. But the introduction of Volvo buses ended that perception and now all luxury buses have AC cabins for drivers as well.