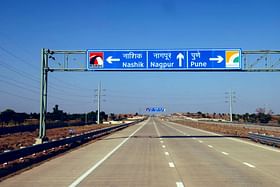 The second phase of Mumbai-Nagpur Samruddhi Mahamarg, an 80 km stretch between Shirdi and Bharvir village in Igatpuri taluka in Nashik district, was inaugurated on 27 May by Chief Minister Eknath Shinde and Deputy Chief Minister Devendra Fadnavis.
The first phase of the Samruddhi Mahamarg, connecting Nagpur to the temple town of Shirdi in Ahmednagar district covering a distance of 520 km, has been in operation since December 2022, when Prime Minister Narendra Modi inaugurated it.
With the latest stretch getting inaugurated, a total of 600 km out of the 701 km of the Samruddhi Expressway is now open to the public.
The remaining 100-km stretch under Phase-III between Igatpuri and Vadpe in Thane will be completed by end of this year or by March next year.
"Many doubted that this project will be a dream and will take 15-20 years to complete, but we completed the project in record time with the opening up of phase 2. In the next 7-8 months the remaining stretch to Mumbai will be ready," Deputy CM Fadnavis said at the inauguration event.
Once the entire 701 km stretch gets operational, Samruddhi Expressway will be the longest expressway in the country.
Samruddhi Corridor
Officially named 'Hindu Hrudaysamrat Balasaheb Thackeray Maharashtra Samruddhi Mahamarg', the 701-km-long expressway connects Mumbai and Nagpur.
The six-lane highway is a green field alignment passing through 392 villages in 26 talukas of 10 districts, namely, Nagpur, Wardha, Amravati, Washim, Buldhana, Jalna, Aurangabad, Nashik, Ahmednagar and Thane.
On this highway, vehicles are allowed to travel at a maximum speed limit of 100 kmph in the ghat section and 120 kmph on flat terrain.
The highway also connects Jawaharlal Nehru Port Trust (JNPT) in Mumbai to MIHAN located in Nagpur, which will improve delivery times of essential goods.
The project is the brainchild of Deputy CM Devendra Fadnavis and was conceptualised when he was the chief minister in 2015.
At present, commuters use NH-3 (Mumbai-Dhule) and NH-6 (Dhule-Nagpur) to reach Nagpur, covering a 839 km distance which takes at least 17 hours. The super communication expressway, once completed, will reduce the travel time between Nagpur and Mumbai to eight hours and will economically benefit 15 districts of the state.
Second Phase
Built at a cost of Rs 3,200 crore, the second phase includes seven major bridges, 18 minor bridges, 30 underpasses for vehicles, 23 underpasses for light vehicles, 3 interchanges at toll plazas, etc.
With the opening of the second phase,
Nagpur to Mumbai journey of 18 hours has been reduced to just 8 hours
Nagpur to Shirdi journey of 13 hours has been reduced to just 5 hours.
The distance from Mumbai to Chhatrapati Sambhajinagar will be reduced by 4 hours.
This second phase will speed up the journey of devotees coming from Thane and Mumbai to Shirdi for Saibaba's darshan. Also, the time taken by farmers from Shirdi, Ahmednagar, Sinnar areas to come to Mumbai for the transportation of agricultural produce will also be reduced.
Rising Accidents
The expressway, popular among motorists despite lack of wayside passenger amenities, is turning into a death trap with 358 accidents reported between December 2022 and April this year, resulting in 39 casualties over the five-month period.
The State Police has attributed the high numbers of accidents on the 520-km-long operational stretch of the expressway to 'highway hypnosis' syndrome, among other factors.