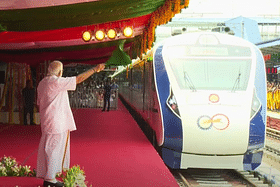 Upbeat at the success of the Vande Bharat express train, Indian Railways is now working to roll l-out three versions of the semi-high-speed train.
The three new variants — Vande Metro, Vande Chair Car and Vande Sleepers are expected to be rolled out by February-March next year, Union Railways Minister Ashwini Vaishnaw said after the launch of Delhi-Dehradun Vande Bharat train on 25 May.
"There are three formats of Vande Bharat. Vande Metro for less than 100 kilometres, Vande Chair Car for 100-550 kilometres and Vande Sleepers for a journey beyond 550 kilometres. These three formats will be ready by February-March (next year)," said Mr. Vaishnaw.
In their present form, Vande Bharat Express trains have only Executive Class and Chair Car. The self-propelled Vande Bharat trains are capable of running at speeds of 160 kmph.
Vande Metro will be a state-of-the-art rake that will be deployed for short distances to cover cities around 100 kilometres apart, with high frequency for commuters. The prototype of Vande Metro is to be ready by March 2024, he added.
Integral Coach Factory (ICF) Chennai, a production unit of the Indian Railways, will start manufacturing metro coaches, once the prototype is approved.
The Railways is also readying the Vande Bharat Express sleeper trains – a more premium version of Rajdhani express trains. The Vande Bharat with Sleeper coach would also run at maximum speed of 180 kmph with operational speed of 160 kmph.
The Ministry of Railway in Feb 2023 had invited tender to manufacture 200 sleeper versions of India's first semi-high speed trains and to maintain them for the next 35 years.
Under this tender, the ICF, Chennai has recently issued two orders for design, manufacture and commissioning of 90 Vande Bharat Sleeper trainsets.
A order worth Rs 675 crore issued to BEML Ltd for supply of 10 Sleeper Vande Bharat trainsets while another order worth Rs 9,600 crore was issued to BHEL-Titagarh Wagons JV for supply of 80 Vande Bharat (Sleeper version) trainsets to Indian Railways.