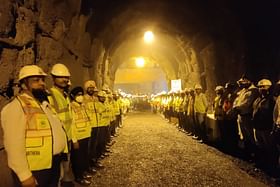 Braving heavy odds, a team of dedicated staff are racing against time to complete the construction of Tunnel-1, the most difficult task of the 111 km long Katra-Banihal section of the Kashmir rail link project by January 2024.
Missing several targets in the past, the latest one is fixed in January next year for completing the project seems to be a Herculean task.
While the work on Chenab Bridge, the highest railway bridge in the world, and Ajni Bridge, the first cable-stayed rail bridge, of the Katra-Banihal section are nearing completion, the lining work and stoppages of water seepages in the Tunnel-1 is most challenging task now.
The varied Himalayan geology and presence of deep riverine gorges in the section is causing the toughest challenge for completion of the tunneling work, according to site engineers.
The Katra-Banihal section predominantly involves tunnelling. There are 27 main tunnels and eight escape tunnels.
The section has 37 bridges of which 26 are major and 11 are minor ones. There are seven stations being constructed in the Katra-Banihal section. Some of these stations are partly located in tunnels, or in bridges or both.
The ballastless rail lines are being laid in the section. While other works like construction of portals, ventilation, of tunnels and signals and telecom works are also going on simultaneously.
In order to provide an alternative and a reliable all-weather transportation system to Jammu and Kashmir, the government planned connecting the Kashmir valley with the Indian Railways network by the Udhampur – Srinagar – Baramulla Rail Link Project in 1999 and then it was declared a national project in 2002.
The 55 km Jammu-Udhampur section was commissioned in April 2005 followed by the 32 km long Anantnag-Mazhom section in October 2008. The 32 km Mazhom-Baramulla section was made operational in February 2009.
The 18 km long Qazigund-Anantnag section was opened in October 2009 and another 18 km long Banihal-Qazigund section along with 11,215 km Pir Pinzal tunnel made operational in June 2013.
The 25 km long Udhampur-Katra section was inaugurated in July 2014.
Now the 111 km long Katra-Banihal section is to be completed and once the section is operational Kashmir will be linked to the rest of the country with rail.
A construction marvel in the tough Himalayan terrain, the USBRL project will prove to be a game changer in the overall development of this hilly region, generating immense opportunities for transport, trade and tourism.
The alignment of Udhampur-Srinagar-Baramulla Rail Link (USBRL), involves construction of a large number of tunnels and bridges in highly rugged and mountainous terrain with the most difficult and complex Himalayan geology.
The USBRL also known as Kashmir rail link project has 38 tunnels with a total length of 119 km and there are 931 bridges having a combined length of 13 km.