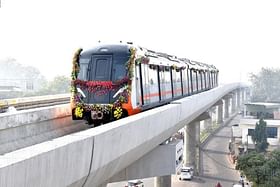 The Uttar Pradesh government has made a big push for the metro network in the State Budget 2023, presented on 22 February.
The budget has made a special allocation for ongoing metro rail projects – Rs 585 crore for Kanpur Metro and Rs 465 crore for Agra Metro.
Similarly, the government has made a provision of Rs 100 crore for the implementation of metro rail in Varanasi, Gorakhpur and other cities.
The state already has operational metro networks in Lucknow, Ghaziabad, Noida, Greater Noida, Kanpur and a new project is coming up in Agra.
The government is working on expanding the network in Kanpur and has planned to expand the services in Gorakhpur, Varanasi, Meerut, Jhansi Prayagraj, Ayodhya, and Mathura.
Agra Metro
The 29.4 km Agra Metro has two corridors with 27 stations.
The 14 km long first corridor between Taj East Gate and Sikandra is now under development. Up to 13 stations, including six elevated and seven underground, will be built along this corridor.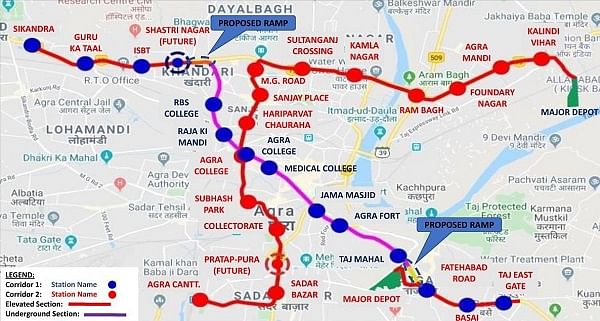 The 15.4-km-long second corridor will be completely elevated and will have 14 stations between Agra Cantt and Kalindi Vihar in Agra City.
The work on 6-km Priority Corridor from Taj East Gate to Jama Masjid on Line 1 is going on at a rapid pace. It would have three elevated stations – Taj East Gate, Basai and Fatehabad Road along with three underground stations – Taj Mahal, Agra Fort and Jama Masjid.
The Uttar Pradesh Metro Rail Corporation (UPMRC) will roll out the first metro train on the priority corridor by January 2024.
Gorakhpur Metro
The State Cabinet has already approved the Detailed Project Report (DPR) for Gorakhpur Metro which entails Metro Lite (three bogie metro trains) on two routes in Gorakhpur at a cost of 4,672 crores.
The 15.14 km long Corridor 1 will be from Shyamnagar to Madan Mohan Malviya University of Technology and will have 14 stations. The second corridor will be from BRD Medical College to Nausad Square. Its length is 12.70 km.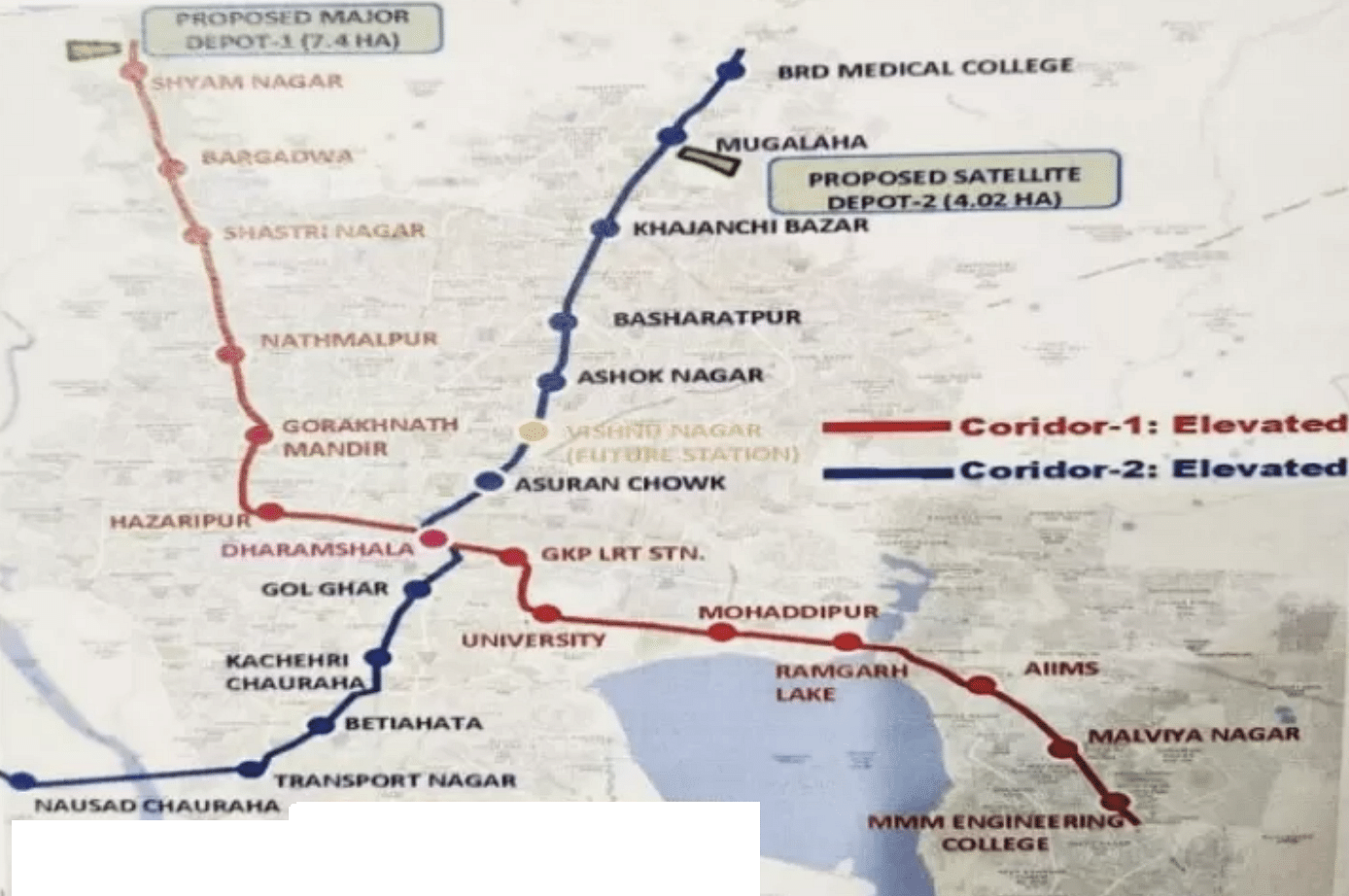 The Public Investment Board under Union Ministry of Finance has already given its approval to the first phase of the Gorakhpur Metro lite project. The construction work is expected to start once the budgetary provisions are made available to the Corporation.
Metro Lite in Religious Places
The UPMRC is planning to introduce the 'Metro lite' services in tourist hotspots of Ayodhya, Varanasi and Mathura.
In Mathura, the Metro services will connect Vrindavan and Govardhan Parikrama Kshetra.
Similarly, in Varanasi, the proposed service will connect all the ghats and important institutions like Banaras Hindu University (BHU). The Uttar Pradesh government is also planning to bring water metro service to Varanasi on the lines of Kochi water metro.
Apart from this, the proposed metro lite service will also cover areas falling within Panch Kosi and Chaudah Kosi Parikrama Kshetra.